This week has just flown by, probably spurred on by the fact that Monday and Tuesday were both bank holidays. Here we are at Friday again . . . and it seems like just yesterday was Friday! It's too bad all weekends were not long weekends! That got me to thinking . . . the other day they were asking people what would they do . . . were they made Queen for a day??? People had some fantabulous suggestions! Here's what I would do!
Everyone would get the day off! Well, except for essential personel of course . . . policemen, firefighters, health care workers. Those that abolutely were necessary . . . but they would get double time for having to work, and a day in lieu at another time. I think that would be fair, don't you???
The bus and trains would be free for the day. You could travel anywhere and it would not cost a dime, no matter where, or how far, or even how many times you wanted to jump on.
The rain would not be allowed to rain, but I would declare it a sunshiney kind of a day. Not too hot, not too cold, just nicely in-between. Now I know that the Queen can not really take charge of the weather . . . but this is my fantasy . . . and I, as Queen, could. So lots of sunshine for everyone! What's the point in having a day off if it's going to rain!
Free ice cream for all! What's the good of a sunny day if you can't sit on a bench and eat a lovely lMr Whippy with a cadbury's flake buried into it's crown!
Pie for everyone! Large or small, short or tall. You get pie! And it doesn't matter which kind you fancy. Whatever is your favourite . . . well that you shall have! Cherry, pumpkin, lemon meringue, apple . . . and not a tiny sliver either. You get an "American Diner" slice, at least 6 inches tall!
There will be a parade down the centre of every town, with a brass band playing all the old tunes . . . nostalgic tunes . . . tunes that set your toes to tapping, and your mouth to smiling! Clowns to hand out balloons, and flowered floats with pretty girls, baton twirlers and fire eaters . . . huge balloons! A little bit of something for everyone's pleasure!
Let them eat cake! Yes, everyone would be given a cake of their choice! And, if you didn't want to eat it today, then that's ok too . . . you can stick it in the freezer for another day . . . the best part would be that you could eat it if you wanted to or save it if you wanted to, but it would be your cake, all yours . . . and whichever kind you wanted it to be too . . . what would you choose?? I think I'd settle for a nice chocolate fudge . . . but hey, I'm Queen! I could have a hundred cakes if I wanted to couldn't I? Or what would be the point in being Queen!
There would be a fair in every town, with fun rides and carousels, and bumping cars and ferris wheels . . coconut shies and cotton candy . . . shoot the ducks, and hammer the hammer . . . fun for everyone! A crazy house with mirrors in it that make you very skinny and very tall . . . and other that make you very wide and very small . . . the air filled with the smell of popcorn, and hot dogs, and chips and candy apples. All for free of course!!
There would be contests for who's the tallest and who's the shortest . . . who has the most freckles and who is the fasted drawer . . . contests for every talent going, and even no talent going . . . and everyone would walk away with a blue ribbon, a winner for sure! Everyone's talents or non-talents being recognized and rewarded!
At the end of the day there would be a great picnic in the park, with music in the bandstand. Lots of fried chicken, potato salad, coleslaw and corn on the cob . . . and buttermilk biscuits, lots of those! And big thick cold slices of juicy watermelon . . . so wet and so sweet, just perfect. There'd be dancing for the older folks and games for the younger folks, and everything in between . . . and at the very end, when people just couldn't take any more . . . there would be a fireworks display to end all fireworks displays . . . and everyone would declare that this had been just the best day ever and they would smile at each other and sigh with joy and satisfaction, and fall into bed exhausted after having had the best day . . . and just sooooo much fun, and every one would declare that I had been just the bestest Queen for the Day ever.
The End.
What would you do???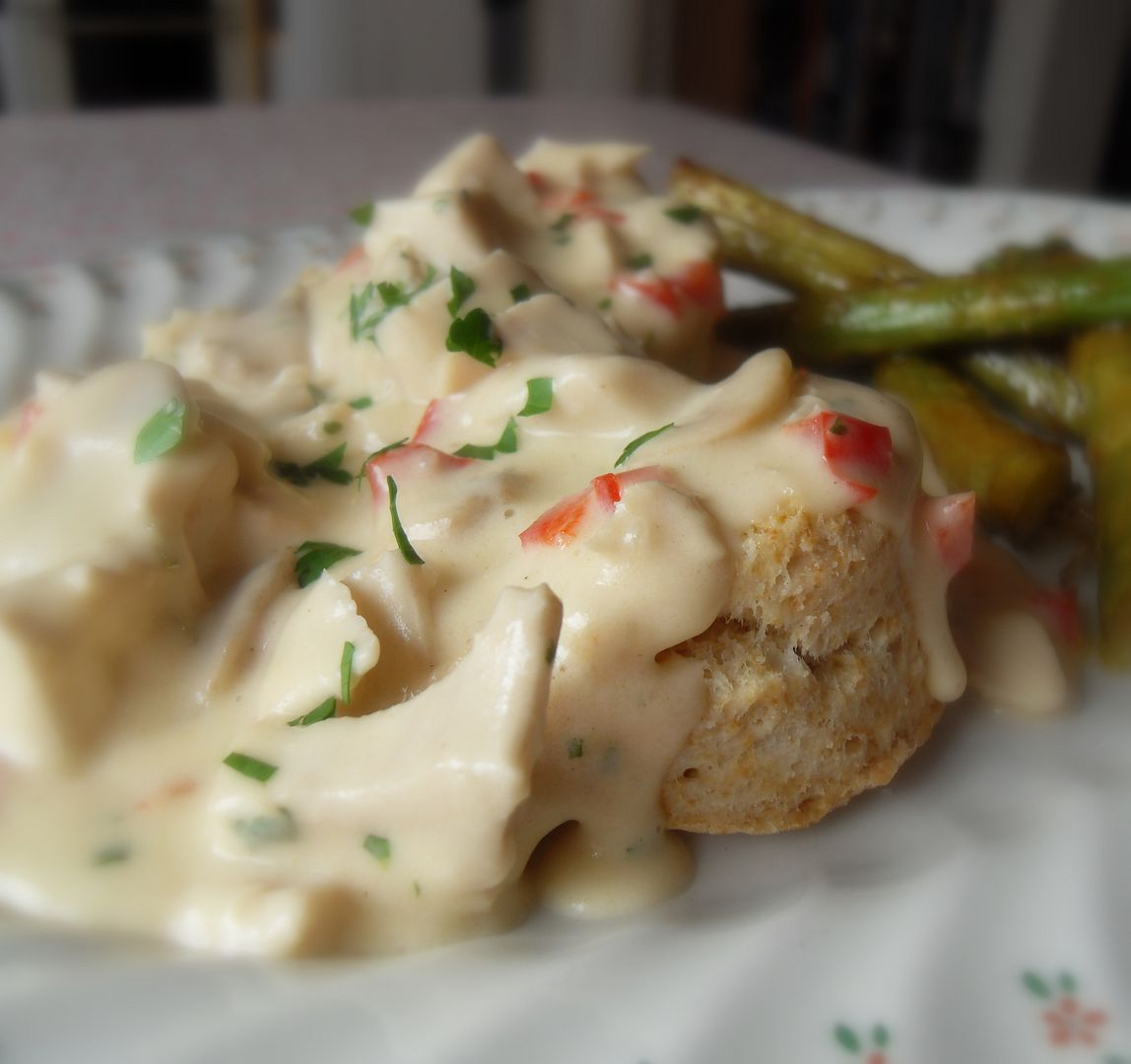 Cooking in The English Kitchen today . . .
Chicken à la King