I remember a quilt that was in our home in my growing up years. It had been pieced together by my maternal grandmother, and lay at times on my sister's bed and at other times on the end of my mom's. It was nothing spectacular . . . quite old really . . . but something that I loved to lay on. It always felt so cosy and warm . . . comforting . . .
It had been composed of leftover scraps of material, stuffed with what appeared to be wool and was tufted with coloured bits of yarn. The scraps of material were a myriad of colour . . . and one could imagine that one scrap might have been from one of my mother's childhood dresses, or one of her sister's . . . or even from one of my grandfather's shirts. They were all odd shapes and sizes and colours. The quilt was very worn . . . worn through to the stuffing in some places . . . but I loved to lay on it and touch all the different patches and wonder where they had come from and the meaning behind them . . .
Some of the fabrics were very plain and dull . . . not much to look at. I could well imagine my grandmother tiredly saying to one of the girls . . . "Beggars can't be choosers. A dress is a dress." while the girl frowned at her new school dress, disappointed that on that day she would not shine. Still others were bright and cheery, like little snippets of celebrations and holidays. A few of the fancier bits carried the whisper of weddings, dances, first kisses . . .
All of the fabrics were arranged haphazardly, almost seeming to shout at each other with loud voices. The textures were interesting though . . . there would be smooth next to bumpy, seeksucker alongside of velvet . . . and all over the quilt there were hundreds of tiny stiches, almost invisible to the eye, puckering ever so slightly. Laying on it I always felt as if in a dreamworld of my imaginations . . . the different textures and colours each telling me a different story beneath my fingertips . . . the quilt was filled with lovely thoughts and memories of my Grandmother too, who passed away far, far too soon . . .
It occurs to me this morning that my Grandmother's quilt was quite like the friends I have gathered throughout my lifetime . . . some of them a bit scratchy and rough, like sturdy pieces of wool, which in time softened . . . or maybe I just got used to their ways. Other friends, as delicate as silk . . . needing to be handled with care. Then there are the friends who are colourful and bright and great fun to be around . . . and some very special ones who feel soft and cosy like brushed cotton flannel . . . the ones who always know how to make you feel better.
I've lived in so very many different places and each place I have lived . . . I have gathered friends for a season. In the end I would have to leave them behind, or they would have to leave me . . . and yet, in my heart, Iknow they are friends for life. If we were to meet again in person tomorrow, it would be as if nothing had changed. We would hug and laugh and talk nonstop. It would seem like time had stood still and the years apart would simply melt away . . .
That is because God has sewn them all into my heart . . . a masterpiece . . . a crazy quilt of friendship and warm memories, that will ever keep me warm, comforted and cosy . . . a quilt which is not near being finished, as I add to it each year . . . with each new acquaintance weaving their way in amongst the dear and beloved, and finding a place of their own in my heart.
Oh . . . what a lovely thought don't you think???
Today promises to be sunny and warm, much like yesterday was. A most pleasant and enticing early spring day. I have my exercise class this morning, but I am not sure what I will get up to for the rest of the day. Each day is like a special gift . . . just waiting to be opened, or a blank page waiting for me to write upon it. I wonder what I shall write today? I can't wait to find out!
Happy Friday everyone!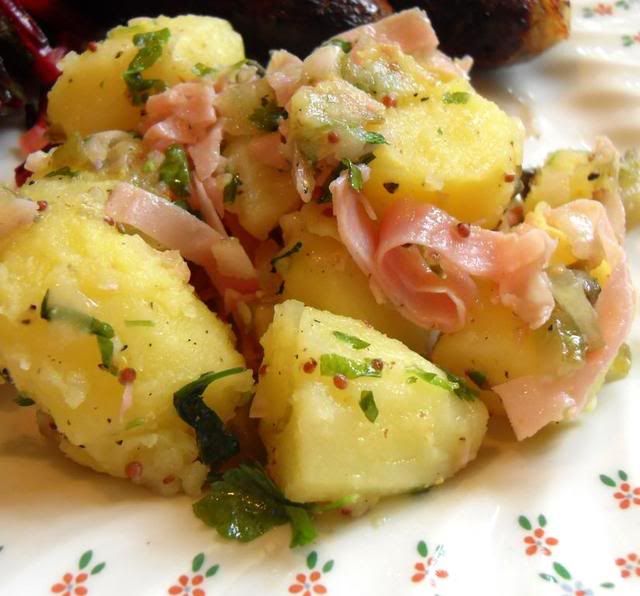 Cooking in The English Kitchen today, a delicious
Warm Potato Salad With Ham.
"Even if you cannot always see that silver lining on your clouds, God can, for He is the very source of the light you seek. He does love you, and He knows your fears. He hears your prayers. He is your Heavenly Father, and surely He matches with His own the tears His children shed."
― Jeffrey R. Holland, Created for Greater Things