Periodically there is a police helicopter that makes it's way across the skies which blanket the area in which I live. It moves very little it seems . . . it appears to find a spot and then just hover there . . . seemingly not far from where our house is. It is really loud and disconcerting . . . it sets my senses on edge and makes me feel anxious. I always wonder if something bad is going on . . . perhaps I have watched too many police shows!
I think noise must be the curse of modern life. The sound of a machine seems to raise a jarring voice on every quiet scene. It is not easy to find a quiet space anymore . . . radio (usually at about a bazillion decibels and nothing that you want to hear), televison . . . traffic racing by. Out in the countryside . . . the tractor ploughing the land, jet planes in the sky, soaring overhead, leaving their jet streams in their wake . . .
These things wear upon the nerves, destroying peace and poise. It would seem that we are unable to progress in this life . . . unless we make a lot of noise!! (And I did not mean to make that rhyme, but somehow it does!) How very different this is from the work of Heavenly Father . . . work which carries on silently in the womb and cell . . . in the shell and seed, in pod and plant and tree . . .
We have learned to find comfort I suppose in the tick of the clock, or the hum of the refrigerator . . . even the wires which sing in hot summer sun . . . the chatter of the birds in the trees. If it all went suddenly quiet . . . would we feel bereft??? I don't know, but it is something to think about for sure.
I had a lovely video call with my son and his family last evening and got to watch our Gabriel opening up his Birthday gift and also to see him and Luke at play. They had been to have a family portrait done earlier in the day and so were all wearing matching blue shirts, except for Luke as he had had an accident on his, but he was wearing really cute little pajamas with snowmen all over them, which he delighted in showing me! I think it is so wonderful today that we have this extra special way to communicate although we are so very far away. It is just like being in the same room with each other, and I am so very appreciative of it!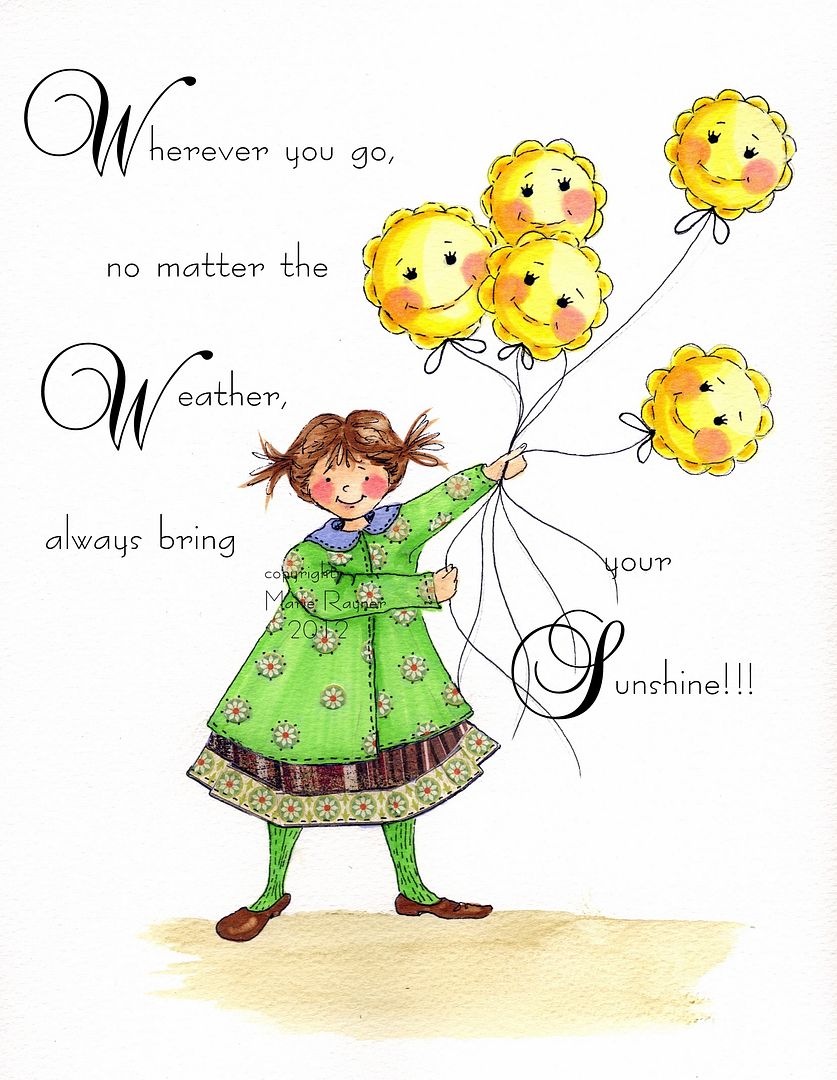 Here's my latest piece of work. I did it the day before yesterday. As soon as I saw that verse I pictured a little girl with sunshine balloons and I could not wait to put my brush to paper and bring her to life. As usual it is available as a card or a print.
We were sorting through my craft room yesterday afternoon. I actually was able to pick out a few cookery books that I felt I could take to a charity shop. Amazing I know! I am not usually able to get rid of those types of things. I also took over a lot of cross stich books that I had collected through the years. I know I could have probably sold them and made some money from them, but really, I don't have the time or the energy. I know I will never use them again, and this way at least a charity will be benefiting from them. It's the right thing to do. I think we are at a point in our lives when we need to pare down. I also have a bag of craft supplies, fancy scissors etc. to take in to the church for the children's Sunday School. There is all sorts, styrafoam balls, paper, stickers and the lot. I am sure they will be able to make good use of it all.
Well, I must dash. I overslept this morning. Funny that. Yesterday I was up an hour earlier and today I was up an hour later! Nature can be an odd thing! Have a wonderful day my friends!!!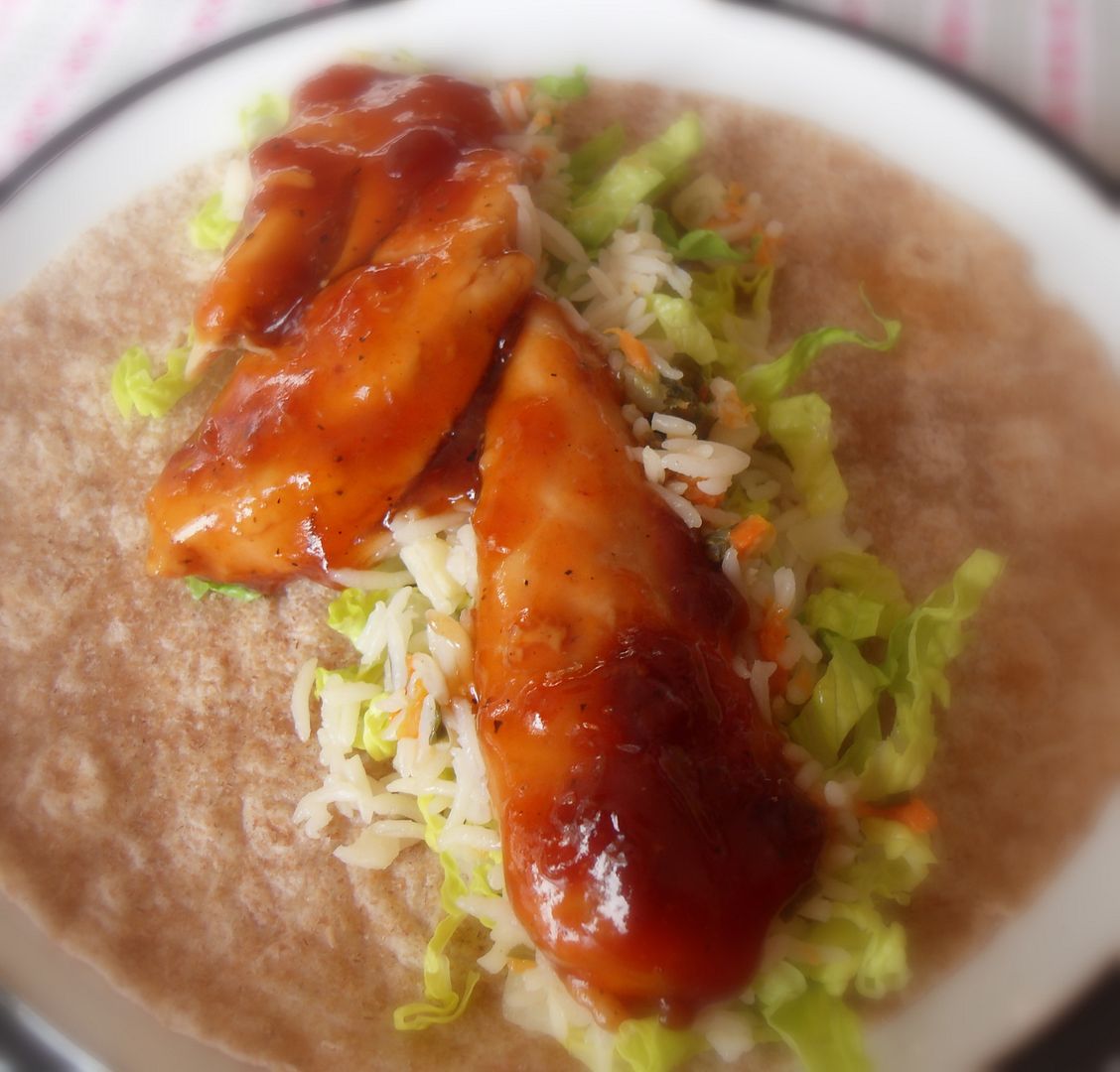 Cooking over in The English Kitchen today,
Sweet and Sour Chicken Wraps.
Yummo!
Yesterday it was . . .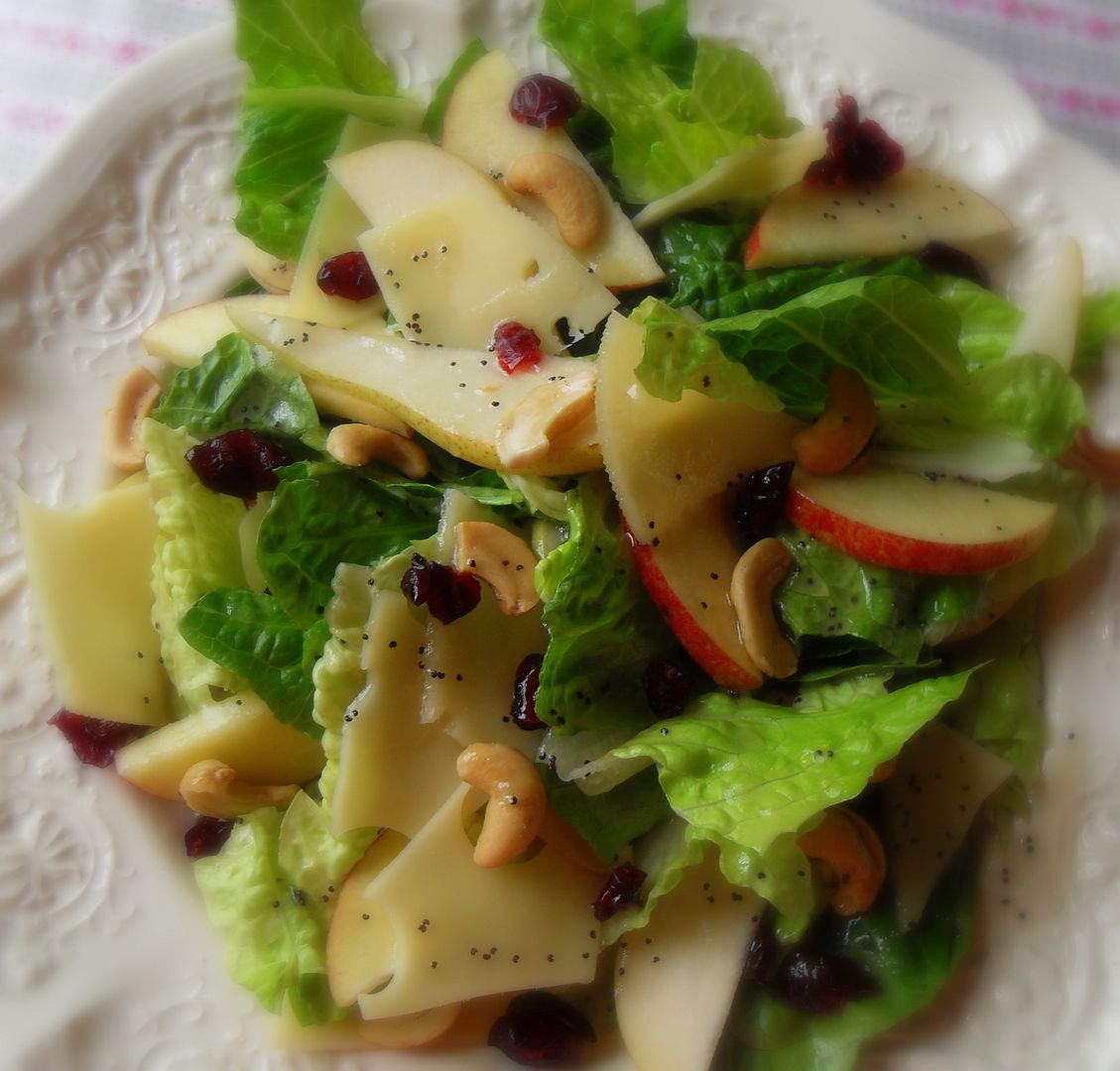 Winter Fruit Salad
. Lovely with pears, apples, cranberries, cheese, nuts and a lovely lemon poppyseed dressing.