"Hope is the thing with feathersthat perches in the soul.and sings the tunewithout the words,and never stops at all."~Emily Dickinson
I sit here at my desk this morning . . . and my ears are full of the beautiful melody of the song thrush which sits on the roof of the house across the way. The car is covered with an early morning dew and I can still see the moon hanging in the early dawn sky. It is fairly cold . . . but the song thrush doesn't care . . . he has a song to sing, and sing it he must.
It is so lovely. I sit here and let the melody wash over me and allow it's beauty to brush across my soul. It's as if
even
he knows the import of this day, and a little dew on his toes along with the cold of an early morning is not going to keep him from telling the world!
There is something special about watching the sun rise in the morning. As you sit there and watch it slowly creep over the horizon, bathing the earth in it's early morning glow . . . something special happens. Your heart begins to fill with feelings that are almost impossible to describe. The increasing light of the sun which surrounds me, whispers to my soul, and my heart fills with hope. It is a joyous feeling.
Who knows what this day will bring?? Nobody knows for sure . . . but I can hope that it will be something good . . . some treasure . . . some blessing unique to this day. Of course it could also bring tumult and grief . . . but that is where faith comes in doesn't it? We hope for a bright and beautiful day . . . we accept what we are given . . . we make the most of it and try to drag something good out of whatever it is . . . and if it turns out to be a bad day, we move forward in faith that tomorrow is a new day and hope that it will be better.
But in the meantime, I am thinking today will be a glorious day. Reading lessons this morning, then we are off to pick up a new sister whom we are going to bring back here to teach. She has just moved into a new apartment and has no furniture as of yet, just a futon on the floor . . . but she is hopeful of a council grant to help her get some. There have been quite a few offers from the church, but she wants to wait for the council first. One can't blame her I guess. Then we have another service to do a bit later on and then tonight is Family Home Evening.
I love Family Home Evenings. I always have done. When I was investigating the church back in the early 90's I was having FHE with my own children in our home. My ex was away at the time. In any case, the children really did enjoy and so did I. You don't have to be LDS to enjoy evenings dedicated to just family and wholesome activity. It's truly a good thing to do and you can build some very special memories together as a family. We always had a special treat and then played a few games together had a special thought or whatnot. Now, with just Todd and I, we read the scriptures together and share our thoughts on them, watch a good and decent film . . . it could be a church film, or simply a quality wholesome one, without blood and gore, violence, swearing or gratuitious sex. They
are
out there and not totally impossible to find or lame to watch!!!
Here is a delicious muffin that you can whip up in no time during this coming Easter season. It comes from a recipe I clipped out of a Chatelaine magazine many, many years ago, and stored in my Big Blue Binder.. Chatelaine is a very popular ladies's magazine in Canada and always has delicious recipes in it, so you just know, these are very, very good.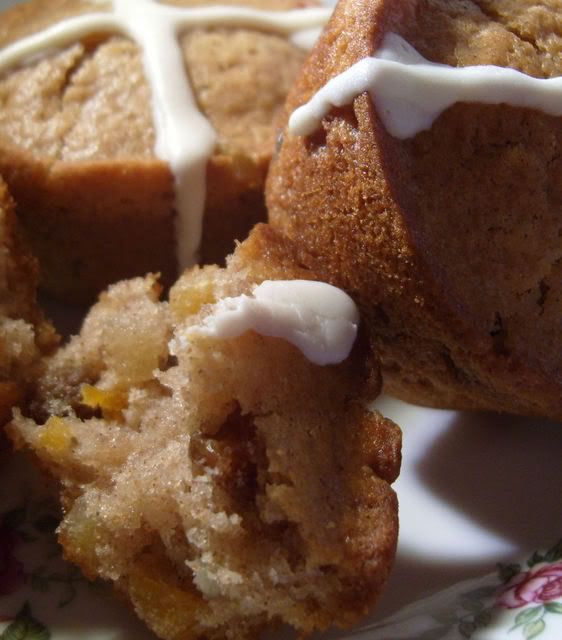 *Hot Cross Muffins*
Makes 12
Printable Recipe
It doesn't have to be Easter for you to enjoy these lovely muffins, but they are an especially tasty addition to your Easter morning menu. Moist and spicy and chock full of plump raisins, chunks of dried apricot and candied peel, these delicious little babies give you all the pleasure of a hot cross bun without any of the pain. You may also bake the mixture as a loaf, but they do look really cute sitting in the bread basket with those lovely little white icing crosses on top.
1/2 cup of sultanas
2 TBS orange juice
1 3/4 cups plain flour
2/3 cup caster sugar
1 TBS baking powder
1 tsp ground cinnamon
1 tsp allspice
1/2 tsp salt
1/4 tsp ground cloves
1/2 cup chopped candied peel
1/2 cup chopped dried apricots
1 large egg
1 cup milk
1/4 cup vegetable oil
2 TBS butter, melted
1 tsp vanilla
For the Glaze:
1 1/4 cups sifted icing sugar
4 tsp orange juice
Pre-heat the oven to 180*C/350*F. Placed the raisins in a small bowl. Pour the orange juice over top, cover, and place in the microwave. Microwave on high for 1 minute. Set aside.
Lightly butter a 12 cup muffin tin or a 9 X 5 inch loaf tin. Set aside.
Sift the flour together with the sugar, baking powder, cinnamon, allspice, cloves and salt in a large bowl. Stir in the candied peel and apricots. Fold in the plumped raisins along with any remaining juice.
Whisk together the egg, milk, oil and vanilla. Make a well in the middle of the flour mixture and pour in the wet mixture. Stir together just until mixed and the dry ingredients are uniformly moistened.
Divide the batter equally amongst the prepared muffin cups. (If making a loaf, scrape the mixture into the prepared loaf tin and smooth the top)
Bake in the pre-heated oven for 20 to 25 minutes for the muffins, or 1 hour for the loaf, until a toothpick inserted into the centre comes out clean. They should be well risen and lightly browned.
Remove from the oven and let cool for five minutes before removing from the pan. Place on a cooling rack to cool completely.
When you are ready to serve them, stir together the icing sugar and orange juice until well mixed and smooth. Place the mixture into a zip lock baggie. Snip a tiny bit off of one corner of the bag and use it to pipe the glaze in the shape of a cross over the top of each cooled muffin. If you have made a fruited loaf, just pipe and drizzle the glaze over the top haphazardly. Let set before serving.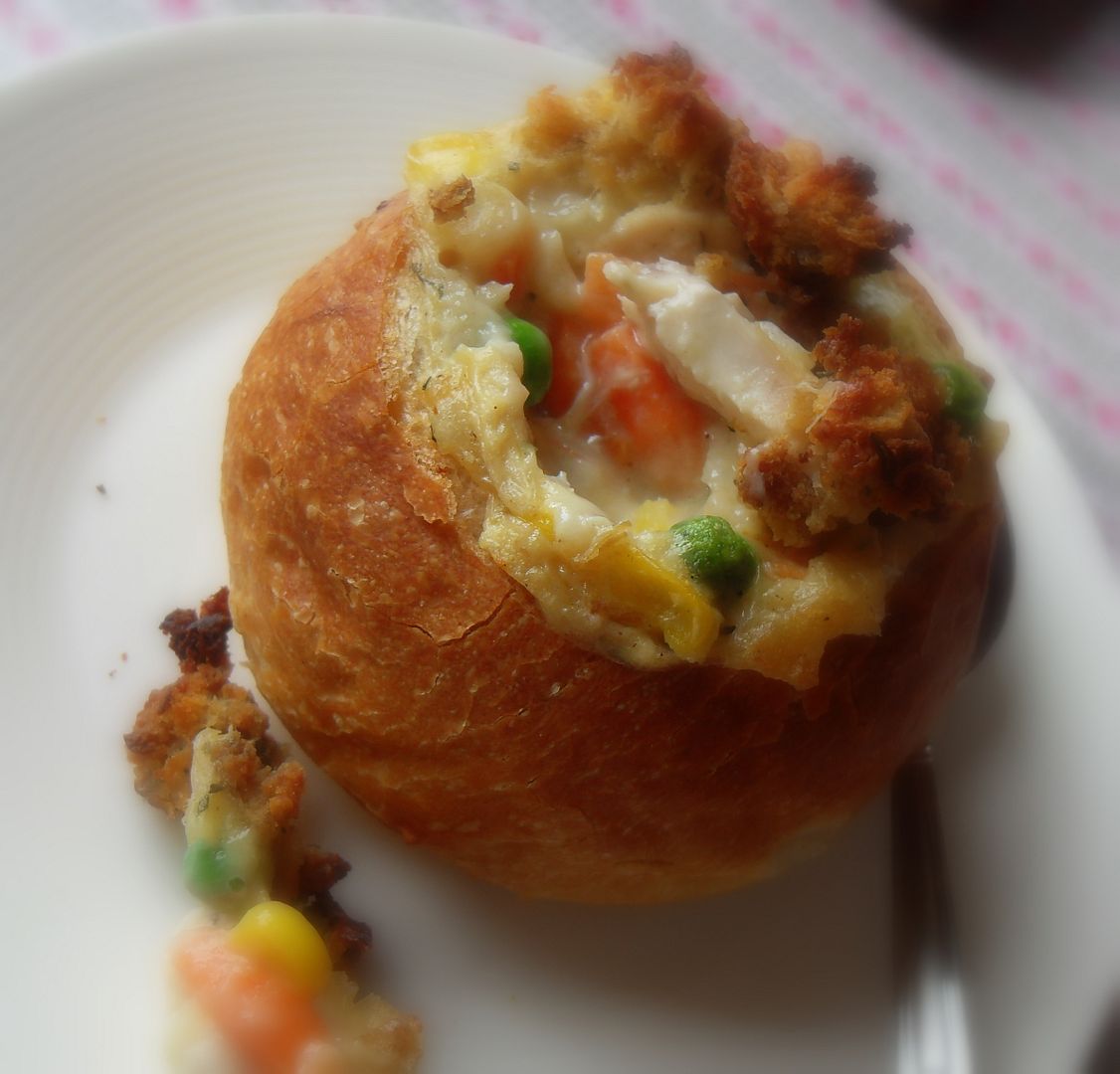 Over in
The English Kitchen
this morning, delicious Crusty Chicken Pot Pie Buns!