"To everything there is a season, and a time to every season under the heaven;
A time to get, and a time to lose; a time to keep,
and a time to cast away.
A time to rend, and a time to sew, a time to keep
silence, and a time to speak." Ecclesiastes 3:1
I read a story the other morning about a fisherman. He wasn't just any old fisherman though. This one liked to play the flute. One day he set off for the seashore with his fishing nets and sat down on the rocky ledge by the water. Once there, he took out his flute and began to play. He thought that the fish would be so attracted by the beautiful sound of his music that they would automatically just swim into his nets.
He ended up very disappointed however, for . . . although his music was indeed very beautiful, he caught not a single fish. He gave up, and in utter frustration and disgust put aside his flute, and then cast his net into the deep water. His reward . . . a splendid catch.
There is a right time and a right place for everything, and there is wisdom to be had in knowing this and putting it into practice. You cannot catch a fish with a flute, and playing the flute will get you nowhere if you are supposed to be fishing . . . even if it does sound melodic and beautiful.
We had a lovely day together yesterday. I cancelled my reading lesson in the morning so that Todd and I could have the whole day together. We tidied up here and then we decided to go to an early movie. We were going to see The Artist. We drove all the way to the Cinema only to discover that it wasn't just a film about Silent Movies, but it was an actual "Silent" movie. I would have still been game to go in and see it as it looked beautifully filmed . . . but Todd wasn't so keen, so at the last minute we went to see the only film that hadn't already started and which didn't require a 3 hour wait . . . "The Grey." It was a film about a bunch of convicts in a plane which crashed somewhere in the Northern part of North America and 6 of the survivors. It has Liam Neeson in it as the main character and he's a bit of eye candy, so . . .
My prognosis. It was somewhat entertaining, although there was entirely too much swearing in it. Neither one of us was happy about that, but then . . . I guess an aircraft full of convicts would have kind of "blue" air I suppose. The cinematography was beautifully done. The six survivors were trying to make it back to civilization and being tracked by a pack of wolves. I have to admit I thought the wolves looked wierd. You could tell they weren't real wolves. That kind of spoilt it for me a bit. While we were entertained somewhat . . . it wasn't really a movie which, had we a real choice, we would have spent money on seeing. It was a "wait until it comes on the telly" kind of movie.
We went to an Italian Restaurant afterwards and had a hot chocolate, but didn't linger long because there was a family at the next table with a bunch of youngsters and one of them insisted on screaming at the top of their lungs every few minutes. An ear piercing scream that really made you wince. The adults did nothing at all to stop it. I couldn't understand that. It looked like a completely normal child and was certainly of an age that it should have been made to understand that you don't scream at the top of your lungs in a restaurant for no reason, repeatedly. NOT fun at all! We left.
We came home and I cooked us a nice dinner. We had some lovely Thai Fish Cakes to begin with that came with a honey hoisen glaze. I cooked a few peppers and spring onions to lay them on and that was the starter. Then there were Steaks with a cognac sauce and caesar veggies for the main course. We ended up not having the sauce because I knocked the full pan with the sauce onto the floor. Thankfully I didn't burn myself, or Mitzie! Then of course we had those tasty Baby Berry Custard Cakes for dessert, which were scrummo. We were going to watch Dirty Dancing (my choice) on the telly in the evening, but the missionaries telephoned to say they were coming over and so we didn't. We will have to save that for another time. We did enjoy their visit though, as always . . . and that was our Valentines Day. (Oh yes and Todd surprised me with a lovely bunch of flowers in the morning. ☺)
Back home in Canada and when my family was growing up I spent hours every autumn putting up pickles and jams and chutneys. With five growing children there was always a use for them and it didn't matter how much I made, it was never enough! I used to get a real sense of satisfaction of seeing all the jars lined up in the larder at the end of the season and indeed it seemed that for a month or so my kitchen smelled of spice and fruit and sweet. It was lovely. I often entered a jar or two into the local country fairs each year and often came up with a winner or two.
With just Todd and I now, there is not much call for a lot in the way of these things, and I do miss making them. I shall have to figure out a way how to scale down my recipes so that I can just make a jar or two of my very favourite things. I do have a great recipe however to make just a small bit of this lovely chili sauce. It's delicious with all kinds of roasted meats and in sandwiches.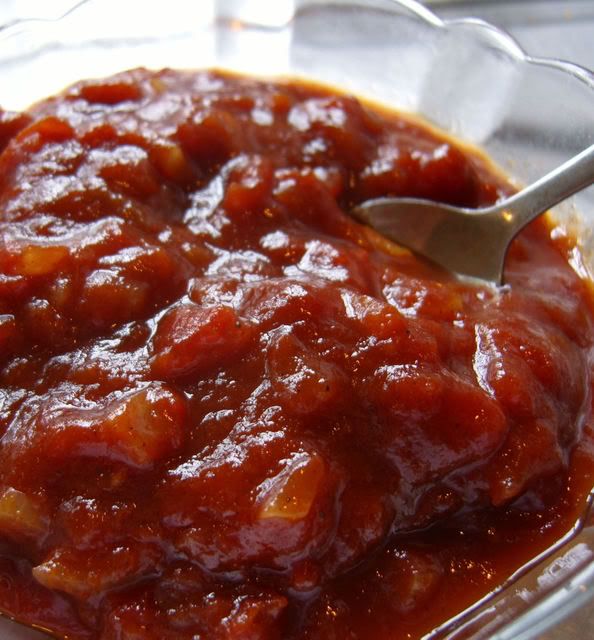 *Chili Sauce*
Makes about 1 cup
Printable Recipe
This is a delicious condiment to serve with roasted meats and fish and goes especially well with macaroni and cheese. I like to spoon it over meatloaf and put it in sandwiches as well. You can vary the heat as you like, using your own discretion as to how many chili flakes you add. I taste it as it simmers and keep adding a few at a time until it is just as hot as I like it, without goin gover the top. It's also very easy to double the ingredients and make more if you like!
1 (14 0z) tin of chopped tomatoes
1/2 cup brown sugar
1/2 cup cider vinegar
1 small onion, peeled and chopped
1/2 tsp ground cinnamon
1/2 tsp ground allspice
a dash of ground ginger
crushed chili flakes to taste
Put all of the ingredients into a medium saucepan. Bring to the boil, then reduce the heat immediately to low and simmer together over low heat, stirring occasionally until the mixture thickens and becomes a dark red. Keep an eye on it so that it doesn't begin to catch. Once it is as thick as you like remove it from the heat and allow to cool. Store in a covered glass jar in the refrigerator.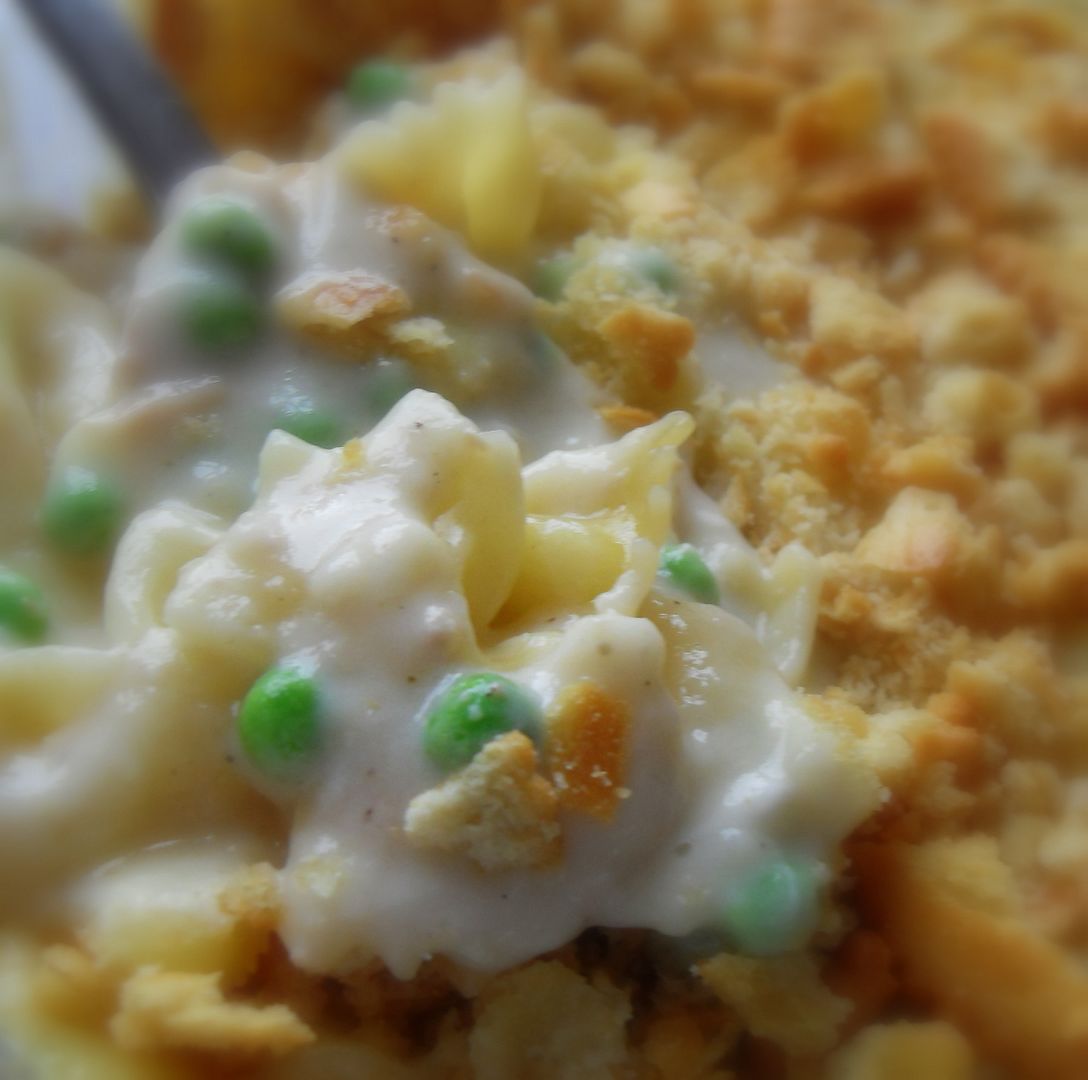 Over in
The English Kitchen
today I am cooking a Layered Tuna Bake.