"The little things? The little moments? They aren't little." ~Jon Kabat-Zinn
Every day I find that I am surrounded by ordinary miracles. Small things that bring me joy and might have gone un-noticed and un-remarked except that I have chosen to acknowledge them and give them voice. Little things that touch my heart and make me smile.
The sight of a small white feather caught in the branches of the hedgerow in the garden reminds me of my many feathered friends that live amongst the shrubbery and hedges that border our back garden on all three sides. I think of the wonderful gifts they bring to us every day of their beautiful songs . . . and the delight we find in watching their antics as they travel to and from our feeders. Down south we had many more varieties . . . up here it is mostly just sparrows, with the odd robin and black bird. Occasionally there are a pair of goldfinches who come and we have seen tits on several occasions . . . no matter that they are not exotic or unsual. They please us every day.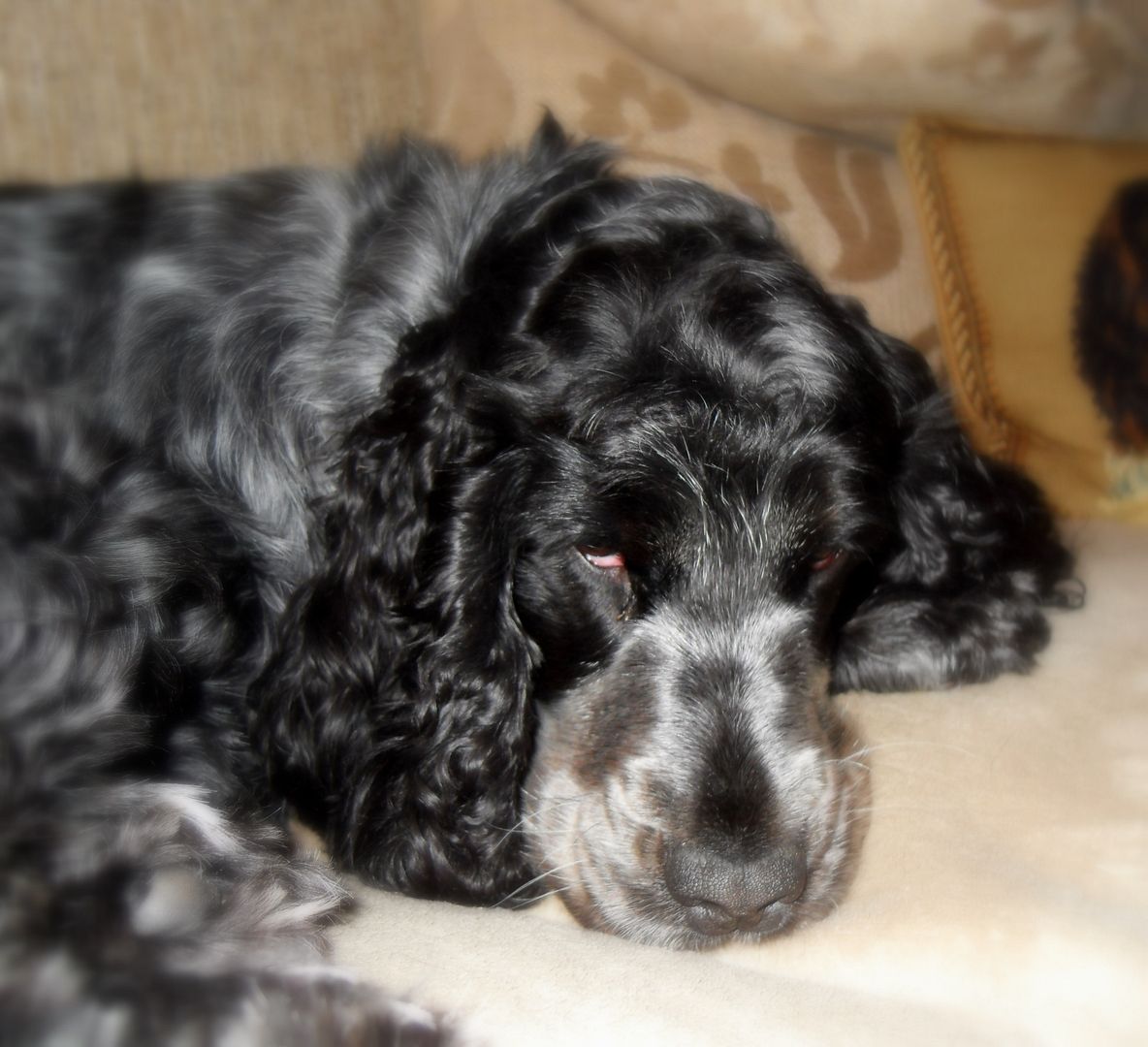 It doesn't seem to matter if I have only been out of the room for 2 minutes or out of the house for 2 hours . . . the minute I return I am greeted most enthusiastically by our lovely Mitzie. It is nice to be loved and to love back. When I get up in the morning, before I can do anything else, it is cuddle time and I sit on the sofa and stroke her silken ears as she makes those little "doggie" type of loving noises that lets me know that she is enjoying every minute of the attention and my heart melts. She often lays by my feet as I type away on the computer in the morningsr snuggles next to me on the sofa as I watch the television. Her cuddly warmth next to me is just like a big cosy hug.
I am always on the look out for little gems and gifts . . . the way the sunlight dances across the dry leaves that linger in the garden, the sight of a butterfly's wings fluttering against the window panes in my kitchen window just as dusk begins to settle in, the wispiness of the clouds in a deep blue sky as they travel slowly across my line of sight, the sound of my Todd's breathing in bed . . . going softly in and out, the silence here in our little terraced house of an early morning as the earth outside begins to wake up, and I hear the little twitters and melodies of the birds in the bushes and the rattle of the milk float as it slowly moves up the street . . .
The sun begins to rise above the horizon and bathes everything in it's special early morning golden glow . . . dry leaves and branches gilded in the crystal glint of a February frost
These everyday things might be taken for granted and often are, if we don't take the time to stop and breathe them into our being. These little snippets of joy, free for the taking . . . are what makes life so beautiful and worth living. I hope I never stop seeing them, or hearing them, or feeling them . . .
My left knee feels a bit better this morning. The cortizone must be beginning to kick in. I have been hobbling about like a woman of 90 over these past couple of days. Hopefully today I can begin to move around with some semblance of normality! My right knee is still bad, but I shall give the other Dr a call next week and see if I can get a shot in that one. Then with any luck I shall be good to go for a while at least. Or perhaps I should wait until closer to my trip . . . choices, choices . . .
My lesson went well yesterday I think. I had some good feedback from it, so I felt good about it at any rate. I do hope that the sisters in the class were able to get something positive out of it. That is the goal. Now all I have to do is to get the things done that I need to do for Thursday evenings additional meeting. It has a love theme so all the stops are out for Valentines Day! I was shocked yesterday to realize that it was already the 9th of Feb on Thursday! I thought I had at least another week for preparation! Aren't the months flashing by already???
This salad here today is proof that if you have a few bags of frozen vegetables in the freezer you are never very far from having a delicious vegetable salad at your fingertips. I always like to prepare a salad when I am having company for dinner and these types of salads in the winter time are always welcome. Hearty and colourful and full of flavour. Do plan ahead as it must marinate for at least an hour in the dressing. It also makes a lovely light lunch on it's own!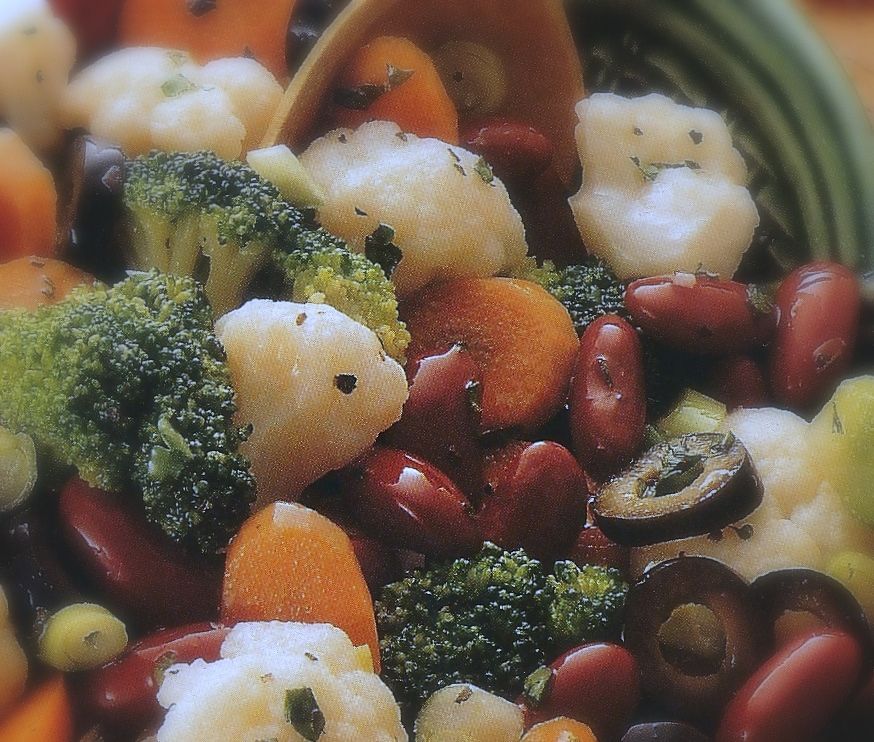 *Vegetable Salad*
Makes 7 (1 cup) servings
Printable recipe
Colourful and crunchy this makes a nice addition to a meal, or even a lovely light lunch on it's own!
For the Dressing:
1/4 cup red wine vinegar
3 TBS olive oil
1 TBS chopped fresh coriander or parsley
1 garlic clove, peeled and minced
1 tsp sugar
1/2 tsp dried basil leaves
For the Salad:
3 cups frozen cauliflower florets, thawed
2 cups frozen broccoli florets, thawed
1 (15.5 oz) tin of kidney beans, drained and rinsed
2 medium carrots, peeled and sliced diagonally
1 cup large pitted ripe olives, sliced
2 spring onions, trimmed and sliced
Cut any large pieces of cauliflower or broccoli in half. Place them into a large bowl along with the remaining salad ingredients. Place all of the dressing ingredients into a small jar with a tight fitting lid. Shake well to combine. Pour over the vegetables in the bowl and toss together. Cover with cling film and then refrigerate for 1 to 4 hours to marinate, giving everything a good stir every now and then. Serve chilled.
Note: Blanched fresh cauliflower and broccoli can be used.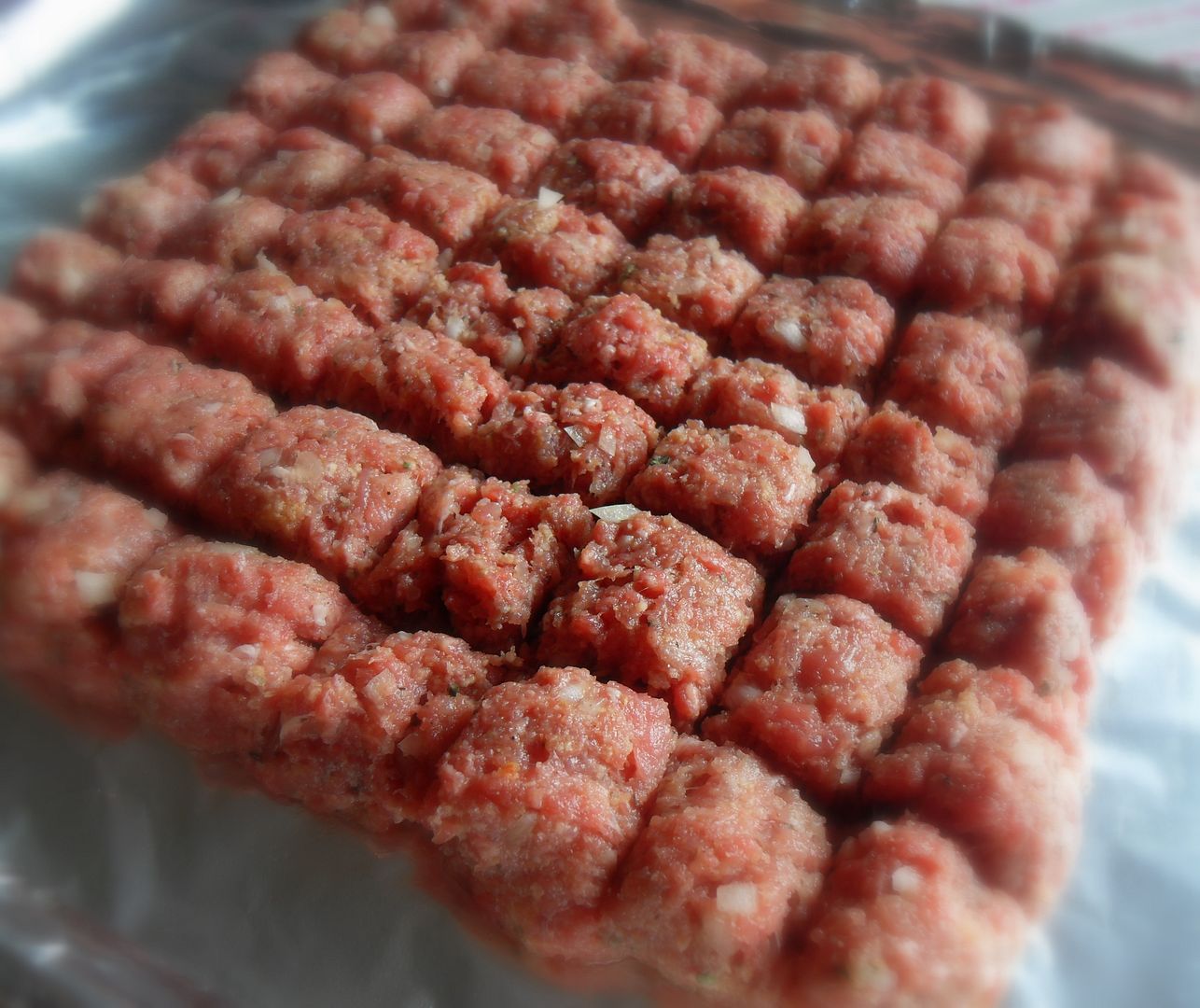 There are some tasty meatball recipes over in
The English Kitchen
today!