I read a story the other day about a kind and quiet man from India who would pray in the Ganges River every morning. One day when he had finished his prayers, he noticed a poisonous spider struggling in the water. He cupped his hands to carry it to shore. As he placed the spider on the ground, it stung him. Unknowingly however, his prayers for the world diluted the poison so that he was ok.
The next day the same thing happened.
On the third day, the man was in the river again and, sure enough, there was the spider . . . legs frantic in the water, struggling to stay alive. As the man went, yet again, to lift the spider out, the spider asked, "Why do you keep lifting me? Can't you see that I will sting you every time, because . . . that is what I do???" The kind man cupped his hands, once more, around the spider and replied . . . "Because
that
is what I do."
There are many, many motivational reasons to be kind in this world, but perhaps there is none so compelling as the spiritual truth that it is quite simply what we do. I believe it is the most natural thing in the world for a person to want to reach out and help another when faced with the other's need. Just as wasps sting and flowers bloom . . . human beings have a natural instinct to life each other, no matter the consequences, even when we know that we risk being stung by the one we seek to help. It is in our instinct that when we see a drowning man . . . the urge to save him rises to the forefront of our being, even though to do so means risking drowning ourselves.
One might argue that this makes us a rather sorry lot that never learns . . . but I think it is one of the things that makes us beautiful creatures . . . beautiful in the same way that berries which break through the ice and snow each spring are beautiful. Berries do not have a sense of purpose or charity. They are not altruistic or self-sacrificing . . . and yet they grow. Why??? Because that is simply what they do.
If we see something about to fall, we will reach to try to stop it. If something breaks, we will work to put it back together. If we see a sink about to overflow . . . we pull the plug. If loved ones cry . . . we will reach out to comfort and to smooth . . . simply because . . . that is what we do. And . . . even if it sometimes seems like a mistake, or if we are afraid of being stung . . . we do it anyways. It is the reaching out that is more important than the sting, for in doing so, we
really
lift ourselves.
Unconscious kindness . . . it helps to feed the human heart. It is what we do.
I'm sorry if I have been a bit neglectful lately in visiting your pages. Time just seems to be evaporating and I haven't been able to get around as much as I would like to. I haven't been sleeping very well and so as a consequence I've been getting up later in the mornings, which means I don't have as much free time in the morning. Hopefully this week will be a better week in that way! Visiting and reading is one of the things I enjoy so very much each day and I miss it very much when I can't find the time!
Here is a delicious casserole from my archives which goes down a real treat with some salad on the side. It's one of those dishes that makes you think of grandma's apron and grandpa's lap . . . comfort, pure comfort. This is another one from my Big Blue Binder.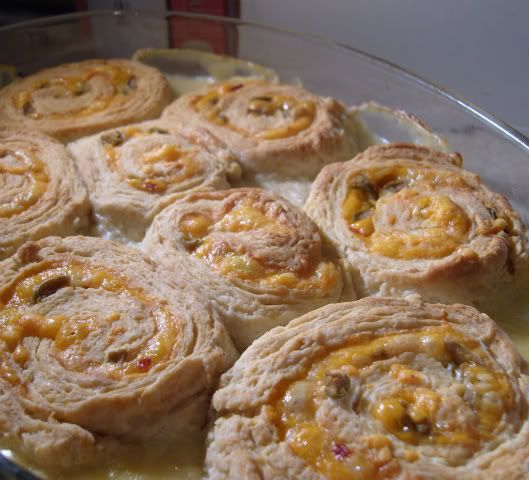 *Deep Dish Salmon Pie*
Serves 4 - 6
Printable Recipe
Cheesy, tender rolls rest atop of a mouth-watering creamy sauce. This delicious dish will have everyone clammering for seconds. This casserole is very hot when it comes out of the oven, so before serving it, make sure to let it stand for ten minutes.
Creamed Salmon:
3 TBS butter
2/3 cup of finely chopped onion
3/4 cup of finely chopped green sweet bell pepper
5 TBS plain flour
1/2 tsp salt
2 2/3 cups milk
1 large tin of salmon, drained, flaked and the skin and bones removed
1 TBS lemon juice
a dash of hot pepper sauce
freshly ground black pepper to taste
Cheese Rolls:
1 1/2 cups plain flour
1 TBS baking powder
1/2 tsp salt
3 TBS cold butter, cut into bits
1/2 cup milk
3/4 cup shredded cheese (cheddar, mozzarella, Swiss etc. I used a combination of red leicester and strong cheddar)
1/4 cup chopped pimento stuffed olives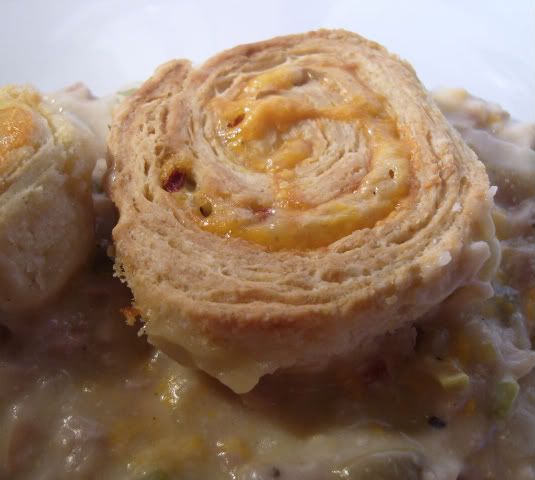 Pre-heat the oven to 205*C/425*F. Lightly grease a 2 litre baking dish and set it aside.
Place the butter for the creamed salmon into a saucepan and heat it over medium heat until it just begins to foam. Add the onion and green pepper and cook, stirring occasionally, until they are tender. Stir in the flour and the salt. Add the milk slowly, stirring until it is well mixed in. Cook and stir until the mixture is thickened and bubbly. Stir in the flaked salmon, hot pepper sauce, lemon juice and the black pepper. Taste for seasoning and adjust as necessary. Pour the mixture into the prepared casserole dish.
Whisk together the flour, baking powder and salt in a medium bowl. Using a pastry blender or the tips of your fingers rub in the butter until the mixture resembles fine crumbs. Stir in the milk until the dough just clings together and is evenly moistened. Turn out onto a lightly floured surface and kneat it gently for about 10 to 12 strokes. Pat out to a 12 by 8 inch rectangle. Sprinkle the cheese and the olives over top. Roll up as for a jelly roll, rolling it as tightly as you can.
Using a sharp knife, cut the roll into 8 thick slices and then flatten each one slightly with your hand. Place the resulting spirals on top of the salmon mixture.
Bake in the pre-heated oven for 25 to 30 minutes until the top is nicely browned and the creamed mixture is bubbling. Let stand for at least 10 minutes before serving.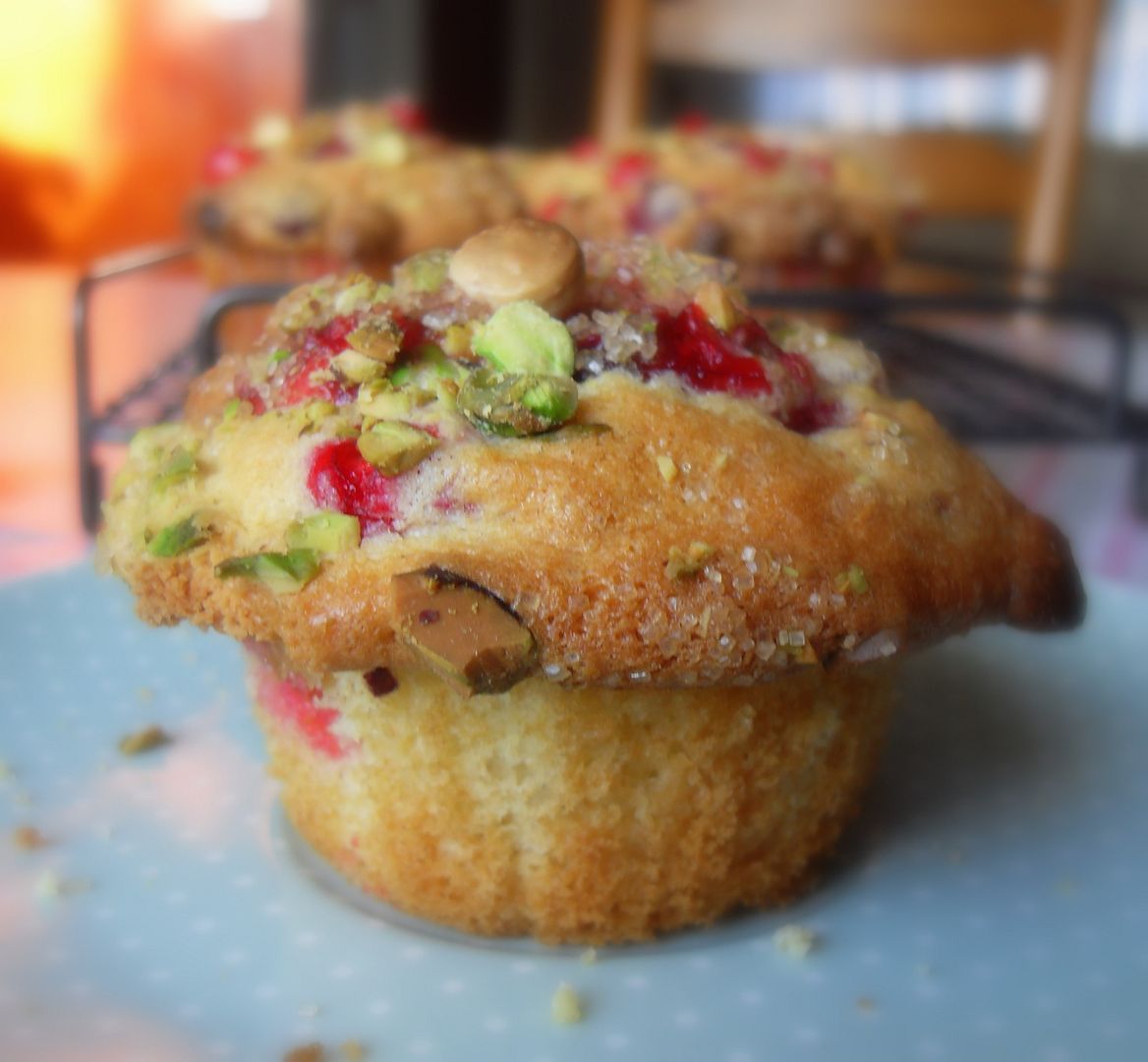 Over in
The English Kitchen
today, some delicious Cranberry, Orange and Pistachio Muffins!