This is the season of giving. In just a few weeks now, people will be exchanging gifts with their loved ones and friends held dear. Stores will be racking up record profits, and . . . if they are not, they will be wondering what changes they can make in the year to come, so that next year will be a bumper year. Children all over the world are busy tallying up their Christmas lists, and posting them to Santa Claus in hopes that he will take note . . . and bring them what their little heart desires.
My children were no different when they were growing up. They also had Christmas lists, and as parents . . . we tried really hard to get them at least one gift which was on their list every year. Some years it was a much loved doll or truck . . . others it might have been a game or a book. They were never extravagant things. We didnt' have a lot of money and they always knew that we had to pay Santa Claus so that poor families could have presents too. One special gift we did try to give them every year though, wasn't something they could hold or touch. It was the gift of giving.
We always tried to teach our kids that Christmas was not only about getting . . . it was also
very
much about giving . . . about sharing all the goodness which we had been blessed with others who had not been so blessed. Each year we would, as a family, pick another family that we felt were in need. This was not a decision that was undertaken without a great deal of thought. We would spend the month before Christmas taking note of those we felt needed help, and then decide on the one that needed help the most.
A big box would be gaily wrapped with our finest wrapping paper, and then throughout the month we would gather together gifts of food and trinkets of joy to put into the box. We tried to put in everything that one would need to cook a Christmas Dinner, along with some extra special treats that people enjoy eating during the Christmas Season. There would be a toy for each of the children. Maybe not an expensive toy, but a toy nonetheless. A bit of cheer for a family that might not be feeling alot of cheer at this special time of year.
On Christmas Eve after church, we would bundle the box into our car and then drive close to where the family we had picked for that given year lived. We would park close enough so that we could see, and then we would quietly drop the box on the doorstep of the chosen family , knock on the door, and then hurry away before they could see who had done it. As a family, we felt good being able to do something to help someone in need. In that box was more than just tasty gifts of food and toys . . . in that box was the gift of love . . . but, more important than that, it also held a gift for my children. The gift of giving and of compassion for those less fortunate than ourselves.
One year we had a particularly bad year ourselves. My ex husband had gotten yet another transfer, and we'd been forced to sell our home in order that we could be together. We lost quite a sum of money when we sold the house, as the housing market had taken a big downturn at the time. We were living in a rented farmhouse out in the countryside surrounding the beautiful Georgian Bay. It was an old and drafty house, it's only source of heat the old fashioned Mennonite cookstove in the kitchen. Because of the large sum of money we had lost on our house we'd been forced to declare bankruptcy . . . much to our shame. There was not alot of money to go around, but we did our best to ensure that the children would have the best Christmas they could possibly have. It appeared doubtful though, that we would be able to enjoy our annual tradition of giving a box to someone that year.
A few weeks before Christmas we got the news that a good friend of ours had lost his job, and that their family . . . devastated by this news, was going to have a bleak Christmas indeed. My children eagerly decided that this family would be the one they would give to this Christmas and they wanted ever so much to put together a box for them. I didn't have the heart to tell them that we, ourselves . . . had very little to give. Into the box went the small turkey I had bought for my own family. All the while I said a little prayer to myself that somehow I could cope. I had a chicken in the freezer that would just have to do for us. We filled that box with all that we could, and went off to deliver it to our friends, annonymously of course. The joy in my children's faces made my heart swell with pride and love for these precious babes of mine that indeed knew and understood the spirit of giving.
Afterwards when we got home, they bundled off to the living room and started to watch a Christmas movie with a big bowl of home-popped corn as I sat in our dining room, looking out onto the snow that was now falling in big fluffy flakes, and pondering the why's and wherefore's . . . and wondering what else I had that could be rustled in to a Christmas dinner on the morrow. Imagine my surprise when I saw a car struggling up the drive, only to stop in front of our door. It was Rob, a special friend of ours from church, and he strode up to our doorway with a huge box held aloft.
Inside that box were all the things we needed to produce a Christmas dinner and some treats to enjoy and an envelope containing a card and four crisp twenty dollar bills. Tears of gratitude rolled down my cheeks and I said a silent and humble prayer of thanksgiving. We enjoyed a lovely Christmas that year, and in many ways it was the best Christmas of all. Despite our own need, we had been able to give . . . and in doing so . . . we had received the most precious gift of all in return, that precious gift of giving . . .
This
is
the season of giving. Is there someone nearby or that you know is going to be alone, or someone that might need a helping hand? Extend the hand of friendship and love . . . and give. You do not need a lot of money to do so . . . it could be something as simple as a pot of soup, a basket of cookies, or . . . best of all, a few hours of your time. I gurantee you'll receive in return, far more than you could ever hope to give. It's funny how that works . . . and very special indeed . . . You just can't outgive a giver . . .
"Often the answer to our prayer does not come while we're on our knees but while we're on our feet serving the Lord and serving those around us. Selfless acts of service and consecration refine our spirits remove the scales from our spiritual eyes and open the windows of heaven. By becoming the answer to someone's prayer we often find the answer to our own."
~Dieter F. Uchtdorf
I don't like to eat meat all the time. Once or twice a week I like to cook us a Vegetarian option, and one of our favourites is this lovely Cauliflower Cheese Pie. With it's crunchy potato crust it is a real pleaser on all counts.
*Cauliflower Cheese Pie With Grated Potato Crust*
Serves 6
Printable Recipe
This delicious vegetarian entree is very easy to put together and uses things that most people have in their larder and fridges. The grated potato crust is fabulous and I can imagine using it for all sorts of entrees. If you love cauliflower cheese, this pie is for you!
CRUST:
2 cups packed grated raw potatoes
1/2 teaspoon salt
1 large egg, beaten
1/4 cup grated onion
FILLING:
1 cup grated strong cheddar cheese, packed
1 medium head of cauliflower, broken into small florets
1 garlic clove, Peeled and crushed
1 cup chopped onion
3 tablespoons butter
1/4 tsp dried thyme leaves, rubbed between your fingers
1/2 teaspoon dried basil
1/2 teaspoon salt
2 large eggs
1/4 cup milk
freshly ground black pepper to taste
paprika to dust on top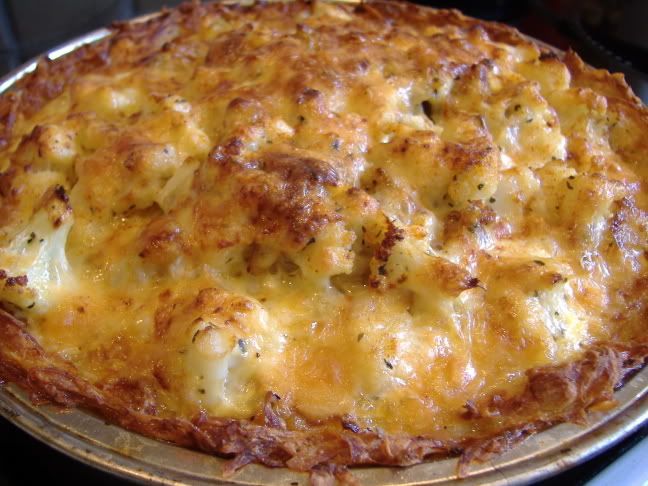 Pre-heat the oven to 200*C/400*F. Oil a 9 inch pie tin and set aside.
Set the freshly grated potato in a colander over a bowl. Salt it and leave for 10 minutes. Then, squeeze out the excess water. Beat in the egg, salt and grated onion.
Pat into the prepared pie tin, building up the sides of the crust with lightly floured fingers. Bake in the heated oven for 40 to 45 minutes, until browned. After the first 30 minutes, brush with some more oil to help it get really crisp.
Meanwhile saute the onions and garlic in the butter until soft without browning, for about 5 minutes. Add the herbs and cauliflower and cook, covered, 10 minutes longer, stirring occasionally. Season to taste with salt and the pepper.
Spread half the cheese into the baked crust. Top with the sauted vegetables, then the rest of the cheese. Beat together the egg and milk and carefully pour over. Dust with paprika.
Lower the oven temperature to 180*C/375*F and bake for 35 to 40 minutes longer, until custard is set and is pie is nicely browned.
Remove from the oven and let sit for a few minutes before cutting into slices to serve. I like to serve this with a leafy tossed salad.
Doesn't it look good??? You can be sure it's totally delicious!!! Would I lie to you?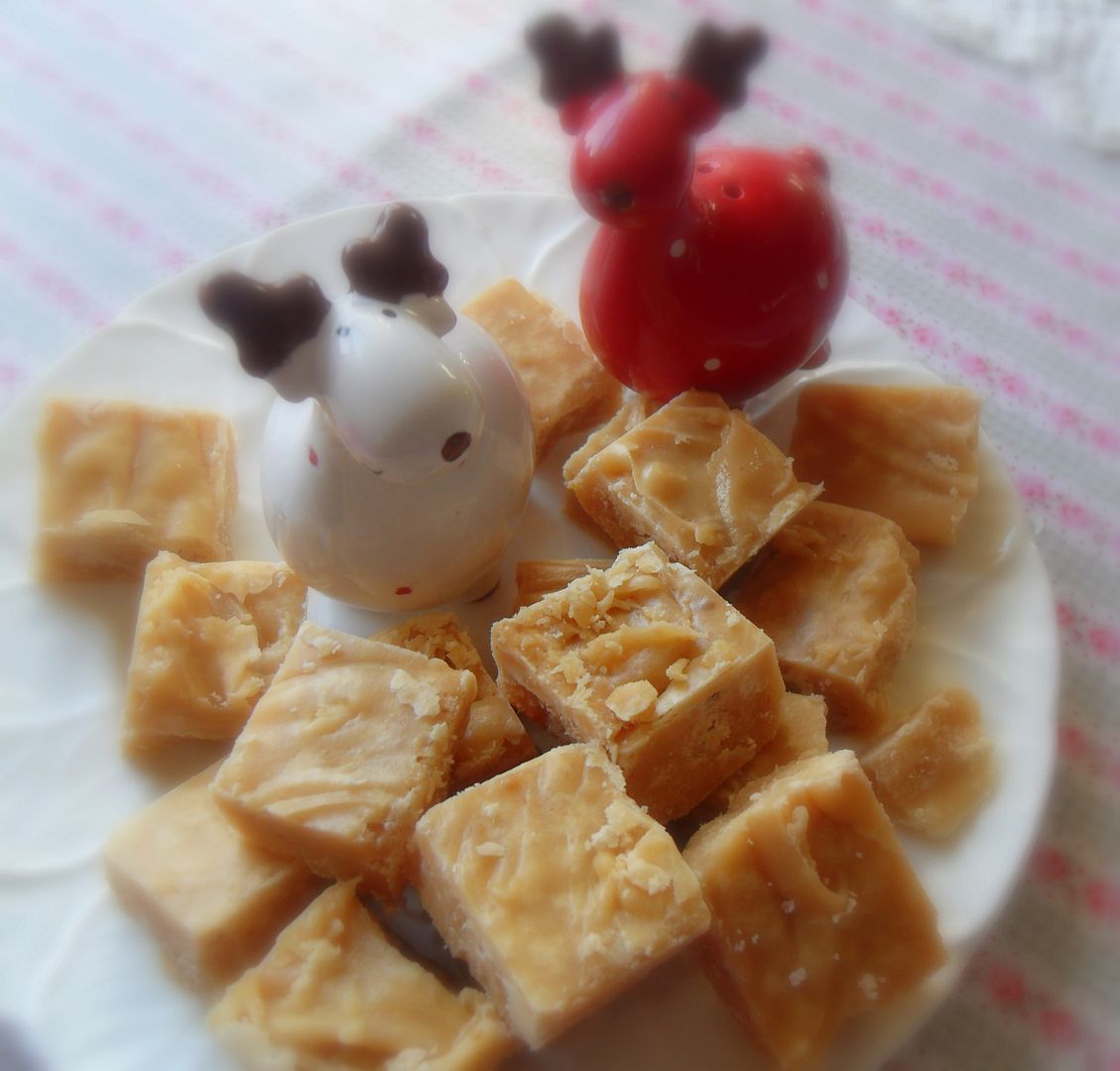 Over in
The English Kitchen
this morning, Mom's Peanut Butter Fudge, a Christmas staple!