On our way home . . . we are more often than not led along the strangest ways. Unexpected turnings often take us back to days long gone and in the past. Suddenly we've gone astray, even though the track we chose to take seemed straight . . . and we find we've stumbled upon the road of the forgotten years.
It could be the snatch of a song heard on the wind when passing down a narrow street . . . or we may come across a poem, some long ago memorized lines . . . foolish but sweet . . .
Sometimes the bells which ring out loud and clear on Sunday mornings can be the impetus that takes us on that backwards journey . . . or Toby jugs, or blue willow plates . . .
Door knockers . . . made of brass and shining, laid out against an old wooden door, painted black . . . Hollyhocks which grow against a brick garden wall . . . small wicker gates . . . the creak and snap of a screen door . . .
These things are the stuff that memories are made of . . . a tiny glimpse and the doorway opens wide and we are taken back as our thoughts fly to distant days already lived . . . down the long, long lane of all the dreams that never die . . . the way home for a weary heart.
The way home to peace and rest at the journey's end . . . the good things and the best. Looking back we see it was the hardhhip, not the ease . . . that taught us most of our life's philosophy. the hurts, the stabs, the stings . . . the things that brought us to our knees, bringing us wisdom from calamity.
A glance behind us and we can clearly see that it was failure . . . not success, which goaded us to fight against despair. Looking back . . . we see that it was pain, not happiness, which led us . . . groping and hoping . . . to knees bent down and hands folded in prayer, and each year it is the same, our lives a mix of pain and pleasure.
Was it worth it . . . ahhh . . . yes it was . . . yes it was.
Just my thoughts as the year winds down and we stand on the precipace of a brand new page, clean and fresh and ready for us to write upon.
I get ever so many e-mails every day . . . notes from friends, advertising, junk and the like, offers, etc. My e-mail can get quite, quite bogged down. I save things, planning to go back to them later when I have more time and then the inevitable happens . . . important things get lost and I forget. I am always ever so sorry when this happens and filled with regret. This same thing happened to me this week . . . a dear friend had sent me several e-mails and . . . what with my illness and the cancer scare etc. they got lost in the mire that is my e-mail box, and then I could not find them. I received another one this week which jogged my memory and I was instantly chagrined and filled with despair and regret for having left something to go for so long. I replied with apologies . . . but I fear the damage was done as I have had no reply and I feel very bad about that. If you are reading this please know that it is never my intent to hurt, or ignore, or brush off . . . and that I care, I really do . . .
Sometimes even the best of intentions can go astray . . . I hate it when that happens.
*Lemon Meringue Cake*
Serves 8
Printable Recipe
If you were to ask me what my favourite kind of pie was, Lemon Meringue would rank high in the list…I could never pick just one. This cake combines all the flavours of a lemon meringue pie with all the pleasures of a delicious cake. It's fantastic!
Cake:
¼ cup butter, softened
½ cup castor sugar
1 whole egg, plus 2 egg yolks (save the whites for the meringue)
1 cup plain flour, sifted
1 tsp baking powder
1/3 cup milk
½ tsp vanilla essence
½ tsp lemon essence
Filling:
2 egg yolks (save the whites for the meringue)
1 cup water
¾ cup castor sugar
1/3 cup plain flour
½ tsp finely grated lemon zest
¼ cup lemon juice
1 TBS butter
Meringue:
4 egg whites at room temperature
½ tsp cream of tartar
½ cup castor sugar
Pre-heat the oven to 180*C/350*F/ gas mark 4. Cream together the butter and sugar until fluffy. Beat in the egg and egg yolks. Mix together the flour and baking powder and then beat into the creamed mixture alternating with the milk, beginning and ending with dry ingredients. Stir in the vanilla and lemon essences, mixing in well.
Butter and flour a nine inch round cake tin. Pour in the batter, level off and bake in the preheated oven for 25 to 30 minutes. Remove from oven. Let sit in the pan for five minutes then turn out onto a rack to finish cooling.
For the filling combine the flour and sugar in the top of a double boiler. Mix together the lemon juice, water and egg yolks and then stir into the flour/sugar mixture along with the lemon zest. Place over simmering water and cook, stirring until thickened. Remove from heat and let cool five minutes, then stir in the butter until melted. Set aside until cool.
Place the cake layer on a plate (one that can handle some heat) and spread the lemon filling over. Beat together the egg whites and cream of tartar until the mixture begins to turn foamy, then continue to beat slowly adding the sugar until mixture is stiff, but not dry. Spread over the sides and top of the cake. Place in a 180*C/350*F oven and bake until the meringue browns. Remove from oven and cool. Serve at room temperature, cutting slices with a wet knife. This helps to prevent the meringue from tearing as you cut it.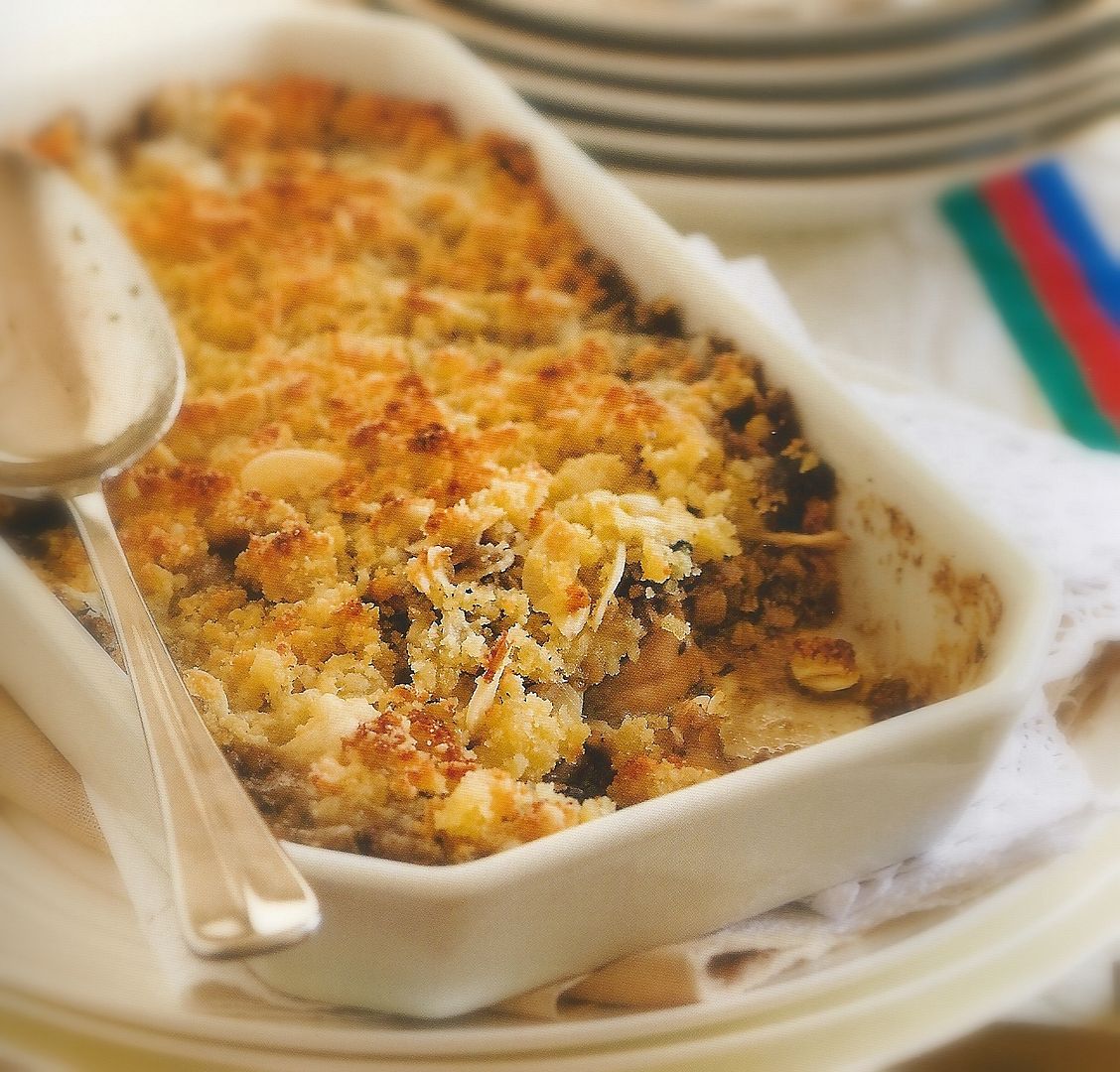 Over in
The English Kitchen
today there are a few tasty casseroles for you to drool over plus some Vegetarian Options for Christmas Lunch!
"...love...it ought to be at the center of all and everything we do in our own family, in our church callings, and our livelihood. Love is the healing balm that repairs rifts in personal and family relationships. It is the bond that unites families, communities and nations. love is the power that initiates friendship, tolerance, civility, and respect. It is the source that overcomes divisiveness and hate. Love is the fire that warms our lives with unparalleled joy and divine hope. Love should be our walk and our talk."
~Dieter F. Uchtdorf