I've been in love with buttons my whole life. Any size, any colour, any type. This, I largely blame on my grandmother's button jar. A large mason jar that sat on top of the chest of drawers in her bedroom. It was full of buttons . . . big ones, small ones, pretty ones, plain ones. New ones . . . old ones, labouriously clipped from bits of worn out clothing , before they went into the scrap bin.
I loved to play with the buttons in the jar. Somedays they were a pirate's golden lucre . . . a hidden treasure as I ran my small fingers through them. Other days they were just buttons, but I would lay on her bed and sort through them . . . trying to imagine what articles of clothing they had come from and who might have worn them.
Every button had a tale to tell and a story behind it. My mother had a button jar as well . . . although her's was a metal tin that I suspect my dad had saved from work. There were about four of these in her sewing basket, each one labeled with masking tape. There was printed on each one in black marker . . . various words. Snaps, hooks and eyes, zippers, and buttons . . . I loved to play with these buttons as well.
There were even several still on the button cards. One card held Duck buttons . . . flat white buttons with colourful ducks imprinted on them in yellow and orange, wearing little sailor hats. Those were my favourite ones, and I longed to have them on a garment of my own . . . although in reality, by that age, I would have looked
rather
silly in a sweater with yellow duck buttons on it! Imagine my joy many years later when, upon having given birth to my oldest son . . . my mother presented me with the gift of a handknit sweater adorned with those same yellow duck buttons!! What a treasure.
I have a button jar myself, although mine is a papier mache heart shaped box. In it I have tons of buttons and, like the child I once was, I still like to run my hand through it and feel their cool smoothness, trickling through my, not so small anymore, fingers. I love collecting buttons and anytime I see a packet that are unusual or colourful I am wont to buy them and add them to my collection.
Quite often, when I buy a blouse or a sweater, it is because of the buttons on it rather than the garment itself. I, too, clip buttons from old clothes before they are thrown away. Sometimes I use them on crafts and sometimes they come in very handy when a button is lost on something being worn . . . but mostly I just look at them, and dream about the tales they have to tell . . . where they once lived . . . and who once owned them . . . the magic stuff of a little girl's dreams.
I rather overslept this morning, not having gotten up until gone half seven! That is so not like me. I must have needed it though! I guess a lie in once in a while doesn't hurt!
This is a really simple way to prepare Duck breasts that goes together very easily but is quite impressive, both in appearance and flavour. I used to cook it quite often when I worked at the big house. It's a great way to impress your guests at your next dinner party. I like this type of cooking . . . simple, yet delicious.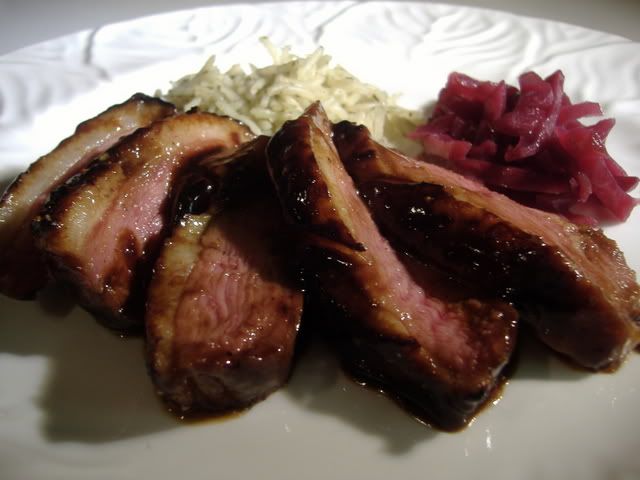 *Molasses Grilled Duck Breasts*
serves 6
Printable Recipe
I hesitate to call it such but this delicious dish is quite similar to what they call fusion cooking. There's a definite Oriental flavour to it with it's underlying tones of soy and teriyaki, but the Dijon mustard and the Balsamic vinegar keep it from being totally eastern and make it all my own. Crisply skinned Duck breasts with a lovely Citrus sauce, it is simply quite wonderful. This needs to marinate for at least 8 hours, so plan ahead. I like to serve it with a rice pilaf.
Marinade:
2 garlic cloves, peeled and minced
1/4 cup Dijon mustard
1/4 cup soy sauce
1/4 cup molasses
1/4 cup teriyaki sauce
sea salt and freshly ground black pepper to taste
3 duck breasts
1/3 cup olive oil
For the Sauce:
1/2 cup orange juice
1/4 cup good balsamic vinegar
2 cups beef broth
1 TBS cornflour
1 TBS cold water
Sea salt and freshly ground blackpepper to taste
Combine the garlic, mustard, soy sauce, molasses, teriyaki sauce, salt and pepper in a shallow, non-reactive dish, and give it a good whisk to combine. Add the duck, turning to coat evenly, then place, uncovered in the refrigerator to marinate for at least 8 hours. Leaving it uncovered helps the skin to dry out some so that it crisps up nicely.
Pre-heat the oven to 200*C/400*F. Remove the duck from the fridge. Remove the breasts from the marinade, reserving the marinade to use in the sauce. Sprinkle the duck generously with pepper.
Heat the olive oil in a skillet. Once hot add the duck breasts, skin side down and sear them over high heat for 2 minutes, or until evenly browned. Remove from the pan and reserve the drippings for the sauce. Give the duck a rinse under cold water and season it again. Place in a roasting pan and roast for 10 minutes.
In the meantime make the sauce. Add the orange juice and balsamic vinegar to the reserved drippings in the pan. Add the reserved marinade, and cook until reduced by one half, deglazing and stirring up any browned bits from the bottom of the pan. Add the beef broth and cook until reduced in half, once again. Blend the cornflour with the cold water in a small bowl. Add to the sauce and cook until it is thickened, stirring constantly. Season to taste with salt and pepper.
Serve the duck breasts cut into thin slices and fanned out on the serving plate. Drizzle a bit of the citrus sauce over top and serve the rest on the side.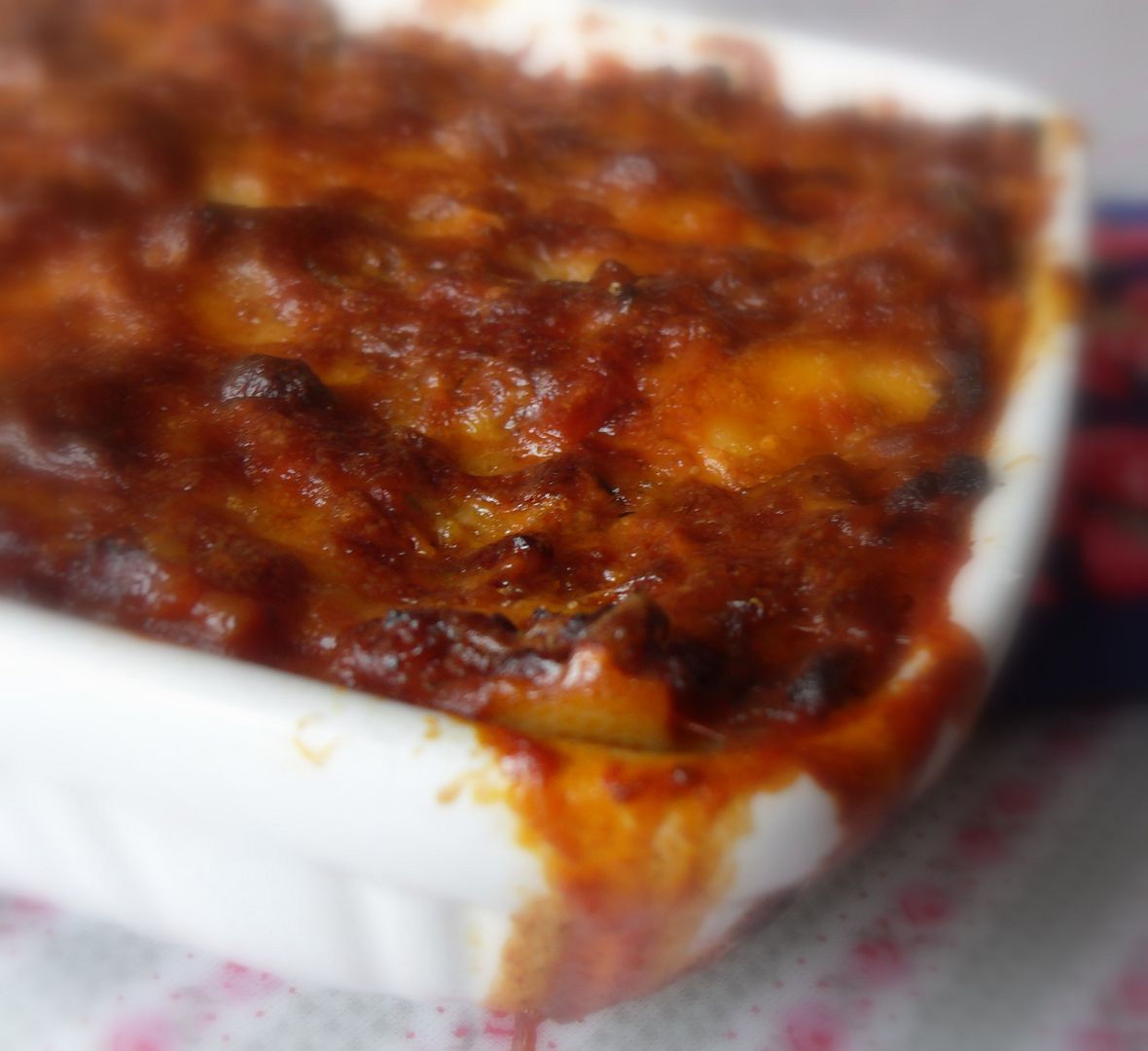 Cooking in
The English Kitchen
today, Layered Ravioli Bake.
"Patience is not simply enduring; it is enduring well!"
~Dieter F. Uchtdorf