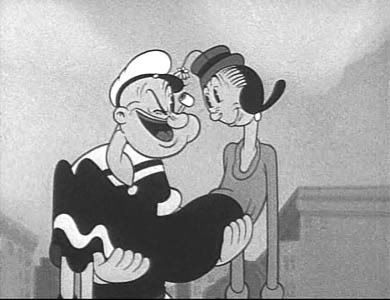 "Seek not outside yourself, heaven is within." ~Mary Lou Cook
Popeye the sailor man knew who he was, and made no apologies for that man.
"I yams whats I yams and that's all whats I yams."
He was always making that simple statement. He had almost no hair on his head . . . squinty eyes . . . a very protruding chin . . . odd shaped arms . . . a ridiculous laugh . . . but, at the end of the day, he was Olive Oil's sweetie pie when push came to shove. She accepted him for who he was. I think that was partly because he was confident in who he was as well. He accepted himself as who he was, made the most of all that he had to work with and, most important of all,
loved
himself.
Then there's Olive Oyle. I could never understand what the big attraction was when I was a child. Skinny as a bean pole with that odd nose that looked like a peanut stuck into the middle of her face . . . her hair severely drawn back . . . flat chested. She was hardly the picture of feminine allure . . . but she had men fighting over her . . . regularly. I think I finally get it though. She, too, accepted herself for what and who she was, made the most of it and then
celebrated
and loved herself.
Together . . . they made beautiful music.
I think that is the secret to true beauty . . . to love and accept oneself. To make peace with all the lumps and bumps . . . the freckles and the wrinkles . . . the parts that sag in the middle and the parts that stick out where they shouldn't stick out . . . hair that is either too curly or too straight . . . boobs that are always either too big or too small . . .
The list goes on and on. How can we expect others to love us and accept us when we cannot love and accept ourselves?
A great poet and teacher has said , "
Here in this body are the sacred rivers: here are the sun and moon as well as all the pilgrimage places. I have not encountered another temple as blissful as my own body." ~Saraha
Sometimes it's really hard to love yourself. We know things about ourselves that nobody else does. We know all our secret thoughts, our secret wishes . . . we are privy to things we'd never ever want anyone else to know . . .
We need to accept though, that we are
not
perfect, nor can we ever be perfect. But . . . we are
who
we are . . . each one of us being unique and special in our own right. It's our uniqueness that sets us apart and makes us beautiful. We can and
should
love ourselves . . . not tomorrow, or the day after that . . . or when we lose 10 pounds, or have enough money to have our hair done, wear the right makeup or buy the right clothes . . . but . . .
today
.
We, each of us, have a spirit that is unique only to us . . . a part of us that is divine . . . created by a Heavenly Father who loves us individually . . . a beautiful creation . . . the part of us that can shine regardless of those big hips or skinny legs. This
is
the part of us that glows, that shows and evokes our genuine beauty . . . the beauty that truly matters . . . the beauty from within.
I have probably never been a real beauty in the sense of the physical word, but I have felt beautiful, and I feel beautiful and I know that I am beautiful . . . My beauty comes from within. My Todd would probably never win a Mr. Universe contest, and I can't remember the last time I saw women lining up just to catch a glimpse of him . . . but when I look into his beautiful blue eyes I melt. The eyes are the windows to the soul and this man has a beautiful soul. I think we make each other melt, which is a good thing.
I really hope that you will, each one of you, today . . . take a few minutes to celebrate and love yourself. Find that little bit of heaven that is within. Be gentle and kind and remember who you
really
are . . . the daughter or son of a Heavenly Father who created your spirit . . . a divine presence that exists within. How could that ever be bad . . .
It's not . . . it's beautiful . . . and it's real . . . and it's
you
.
I want to wish a very Happy Thanksgiving to all of my American friends who will be celebrating it today and this weekend! May your time together with family and friends be truly blessed . . . I tried doing Thanksgiving here a few times, but it somehow didn't cut the mustard! You need to be with people who actually understand the Holiday! The Brit's don't really "get" it! I hope you have a lovely time, eat too much turkey and pie, and best of all feel the love . . . of family, of friends and of your Heavenly Father!
This isn't quite turkey, but it will have to do. Boneless Hot Wings. I know . . . they're not really wings are they? But . . . meh . . . they're delicious and that's what counts most of all!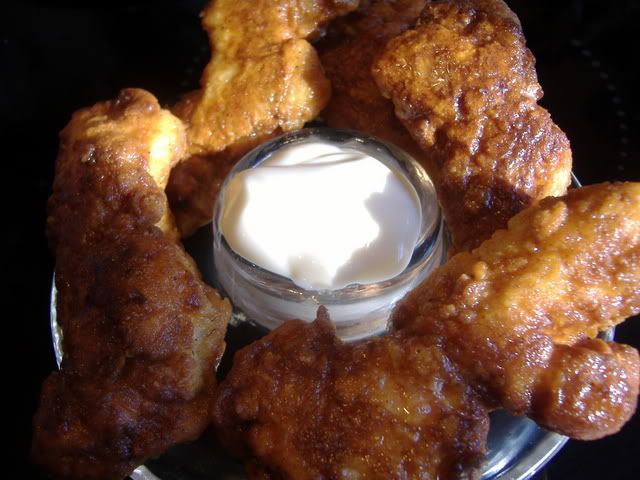 *Boneless Hot Wings*
Serves 2 (But easily adaptable to more)
Printable Recipe
These are so delicious and tender, I could eat them every day. It might look like a long list of ingredients and complicated, but once you get everything organized they go together very quickly and before you know it you'll be enjoying them and coming back for more. Deeeee licious!
1 cup plain flour
1 tsp salt
½ tsp ground black pepper
¼ tsp cayenne pepper
¼ tsp sweet paprika
1 large egg
1 cup milk
2 boneless, skinless chicken breasts
Sunflower oil
1 TBS butter, melted
1 tsp hot sauce (You can use more ifyou can take it … I can't!)
FOR SERVING:
Blue cheese dressing (store bought or homemade)
Combine the flour, salt, black pepper, cayenne pepper and paprika in a bowl. Set aside. Whisk together the egg and milk in another bowl and set aside.
Slice each chicken breast crosswise into 1 inch thick slices. Dip each slice into the egg/milk mixture and then coat in the flour mixture. Repeat the process until each piece has been double dipped. Set aside on a plate and then, once you have double dipped each piece put the plate in the fridge to chill the chicken for at least 15 minutes.
Heat about a half inch of sunflower oil in a skillet over medium high heat until hot enough to fry. Fry the chicken pieces in the hot oil for about 3 minutes on each side, until golden brown. Remove to drain on paper kitchen towelling.
Put the melted butter and hot sauce into a plastic container with a lid. Add the chicken pieces, put on the lid and shake gently until coated.
Divide amongst two plates and serve with some blue cheese salad dressing on the side for dipping. Just wonderful!
I'm baking Parker House Rolls over in
The English Kitchen
today!
"As you take the normal opportunities of your daily life and create something of beauty and helpfulness, you improve not only the world around you but also the world within you."
~Dieter F. Uchtdorf