When I lived out in Western Canada as a much younger woman, Tornados were always a big fear of mine. Whenever we had a big storm there was always the danger that one would touch down, and indeed I have had to live through more than one large Tornado threat, although thankfully have never been directly hit. One time, following a particularly long and furious storm, I walked out into my back garden afterwards to assess the damage and as I stepped out onto my back porch I was confronted with the biggest, most beautiful rainbow I had ever seen. It's colours were so vivid and brilliant . . . oranges, reds, purples, blues, greens and yellows . . . Even more stunning was the fact that just below this brilliant rainbow there was another rainbow, every bit as brilliant and beautiful as the other. I had never seen anything like this before . . . or since. I immediately had to run in side and tell everyone to
"Come and See!"
All were amazed and almost knumb to see such a beautiful sight, which actually only lasted moments in reality, but stayed forever in my memory and mind. This thing of great beauty touched not only my own life, but those I had shared it with, and probably hundreds of others who just happened to be looking at the same after-the-storm sky as I . . .
It is not every day we are invited to witness a wondrous thing such as this. These moments are all too rare and fleeting. Just over two thousand years ago . . . a similar invitation was given to two hardworking brothers who were fishing upon the Sea of Galilee . . . casting out their nets. As Christ walked along the shore, they called out to Him, asking . . . "Rabbi where dwellest thou?" and He replied . . . "Come and See."
This same invitation is one that He still extends to all who would come within sight of Him. It is our choice to accept or decline. What happens after we "come and see," is no less miraculous or life changing as it is to see and experience the beauty of a double rainbow . . . an invitation that can help to deliver us from the time constraints, worldly pursuits, pride, chores and other pressures which may prevent us from experiencing and witnessing all the beauty and joy that this life holds for those who would choose to walk His path and follow Him.
We all have nets . . . and we fill them with different things . . . things which drag us down and prevent us from reaching our full potential . . . which keep us from having a full and meaningful relationship with the Saviour. Today, won't you "Come and see?" You may be amazed at what you discover about yourself . . . and about His love for you. Leave your nets behind and walk His way. You may not hear the soft rhythm of sandled feet, but if you begin each day with a prayer in your hearts, I believe you will hear the soft whispered assurance that you do not travel this day alone.
And some days that assurance is needed much more than on others . . .
These past few weeks of waiting have been the hardest weeks ever. I have tried to remain positive and for the most part I've been successful . . . but underneath it all no matter how hard I have tried, there has been an undercurrent of dread. You just can't help it. Today I am placing my hand in the Saviour's hand because there is just no other way to get through it. What will be, will be. Wish me luck!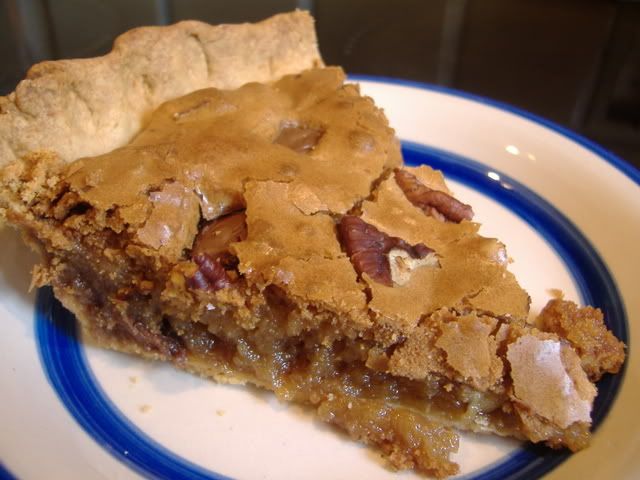 *Chocolate Chunk Pie*
Serves 12
Printable Recipe
This is a rich and sweet little taste of home. Who doesn't love chocolate chunk cookies, filled with nuts . . . this is the same, only moreish. I like it warm, accompanied with a nice scoop of ice cold vanilla ice cream melting over the top . . .
PASTRY:
2 cups plain flour
2 TBS caster sugar
¼ tsp salt
½ cup cold butter, cut into bits
1 large egg yolk
2 to 3 TBS ice water
FILLING:
1 cup caster sugar
1 cup soft light brown sugar, firmly packed
1 cup plain flour
2 large eggs, slightly beaten
½ cup butter, melted
½ cup coarsely chopped toasted pecans or walnuts
1 ½ bars of good quality milk chocolate (100g each) cut into chunks
(I use Green and Black's organic)
First of all make the pastry. Put the flour, sugar and salt in the bowl of a food processor and blitz to combine. Add the butter and the egg yolk and blitz again, pulsing only until the mixture resembles coarse meal. With the motor running, add 2 TBS of the ice water and process only until the dough masses into a ball, adding the extra TBS only if needed. Remove the dough from the processor. Shape into a ball, kneading in any remaining flour if necessary. Shape into a disc, wrap in plastic and chill for about 30 minutes.
Pre-heat the oven to 150*C/300*F. Remove the dough from the refrigerator and roll it out on a lightly floured surface, Line a deep, 10 inch, pie dish with it. Trim and crimp the edges. Set aside.
Mix the sugars and flour together in a medium sized bowl. Stir in the beaten eggs and then the melted butter, mixing well to combine. Fold in the nuts and the chocolate chunks. Spread the mixture into the prepared crust and bake in the heated oven until a knife inserted in the centre comes out clean, approximately 60 to 70 minutes. Remove from the oven to a wire rack to cool when done. Serve warm with some ice cream, or let cool completely before serving. Either way it's delicious!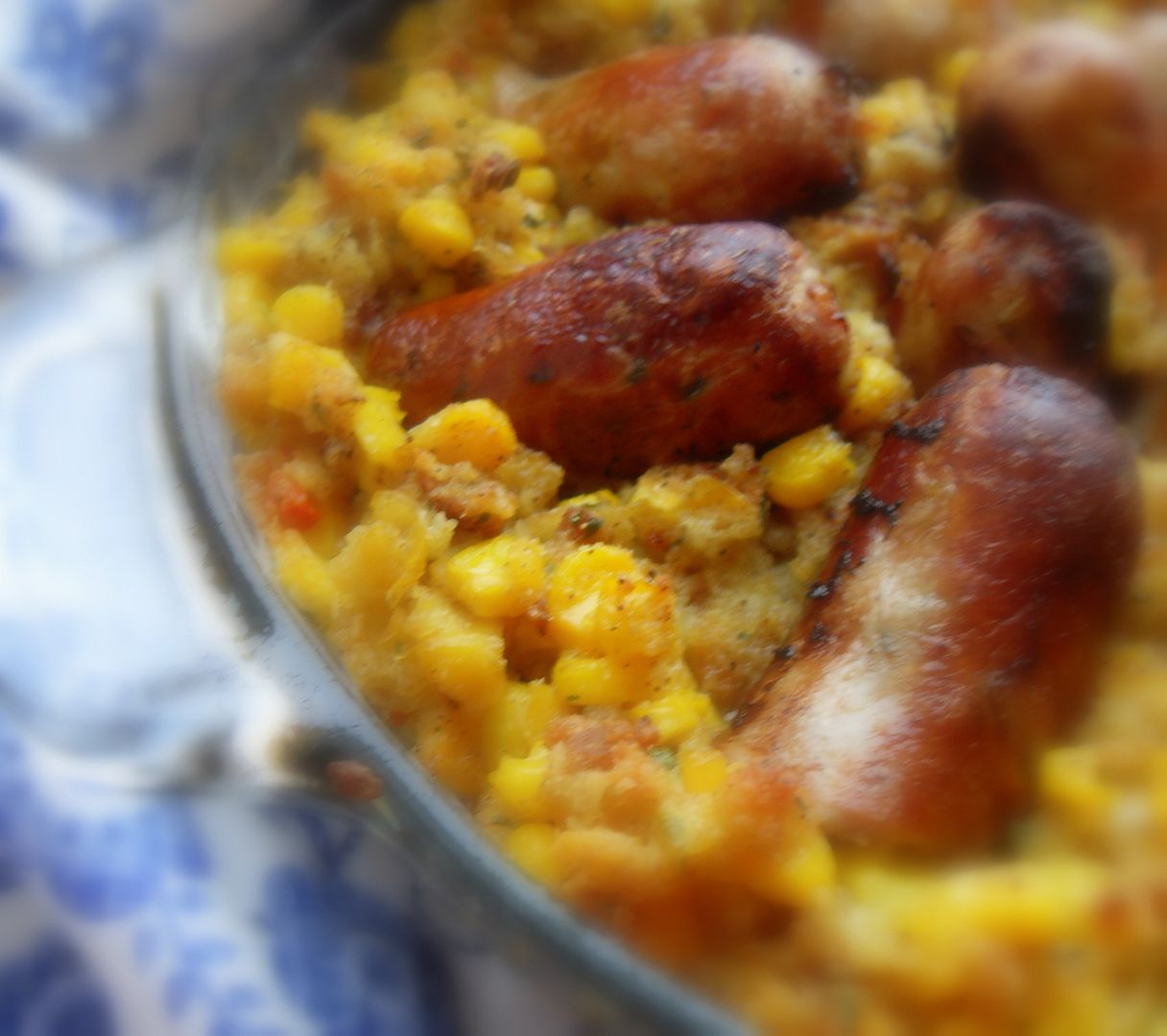 Cooking in
The English Kitchen
today, a tasty Sausage and Corn Bake.
"We have a choice. We can seek for the bad in others. Or we can make peace and work to extend to others the understanding, fairness, and forgiveness we so desperately desire for ourselves. It is our choice; for whatever we seek, that we will certainly find."
~Dieter F. Uchtdorf