One day while Todd and I were on one of our many walks through the neighborhood . . . the smell of toast suddenly lingered in the air . . . no doubt someone's breakfast. It was a lovely smell and filled my mind with thoughts and memories and dreams and wonder.
You know the smell I am talking about I am sure . . . it's at once warm and yeasty with undertones of smoky charcoal . . . a comforting and homey smell.
My much beloved Aunt Freda always said that there was nothing more beautiful on this earth than watching my mother eat a piece of toast. Apparently she made it look like she was eating the most delicious food ever produced, and so I watched her one day . . . and it was quite true. She did make it look very, very , very good.
When you think about it really, one has to admit that toast can be food for the Gods indeed! Crunchy with crisp edges . . . warm butter melting in to all it's crags and crannies . . . toast is the perfect food! I am quite sure it is the world's first comfort food, and and I know it is one of life's most enduring simple pleasures . . . one of those perfect foods that will never go out of style .
Warm, crunchy and golden brown . . . buttered or not . . . what is a cup of tomato soup when un-accompanied with toast? Just a pale imitation of the joys that could be yours but for a simple effort . . .
A slice or two with some weak ginger tea is good medicine when you are ailing and when you get home really late at night . . . starving . . . but too lazy to do much else, nothing fills that gap better than a thick golden slice of toast, with cold peanut butter from the fridge, meltingly, deliciously spread over all. If you really want to gild the lily, try a slice or two of crisp bacon on top . . . nectar of the God's indeed!
One of the most comforting, simple moments you can have is to make yourself a slice of toast for breakfast or for a midday snack. The scent of bread caramelizing in the toaster is wonderfully ethereal, and always makes me hungry.
When I first moved over here to the UK, Todd used to take me to a little cafe in the Chester market and we would have toast . . . beautifully thick slices of caramelized bread with great lashings of butter melted over top. Oh, it was so good. Why does toast taste so much better when someone else makes it??? You can't deny it. It's true!
Let's not forget that great and comforting British supper . . . Beans on Toast, (I always melt cheese on the toast before I spoon on the beans) Then, too . . . there are toast soldiers, standing at attention to dip into your egg in the morning. How about that toasted delicacy . . . Welsh Rarebit, a savoury upscale version of cheese on toast.
Another personal favorite of mine is two slices of toast spread thickly with peanut butter and stuck together with a huge goop of strawberry jam. It drives Todd crazy, but I just love it. Nom! Nom! You get the nutty melting peanut butter, the cold sweetness of the jam . . . all encased in crusty golden buttered warm bread. That's a taste that's pretty hard to beat in my books.
Just writing about it is making me hungry . . . but alas I cannot eat this morning. I have a fasting blood test at 9 am and I have to wait until after that. Sigh . . . why is it when you cannot eat, all you can do is to think about food? I dunno . . . but it seems to be true!
This is a recipe that comes from a little handwritten notebook that my ex Mother In Law gave me about 35 years ago. It is old and spattered and the writing is fading away in some places . . . I really need to take the time to rewrite it all before these recipes are lost. These were always a real favourite of my family through the years and I just know they will be a favourite of yours as well!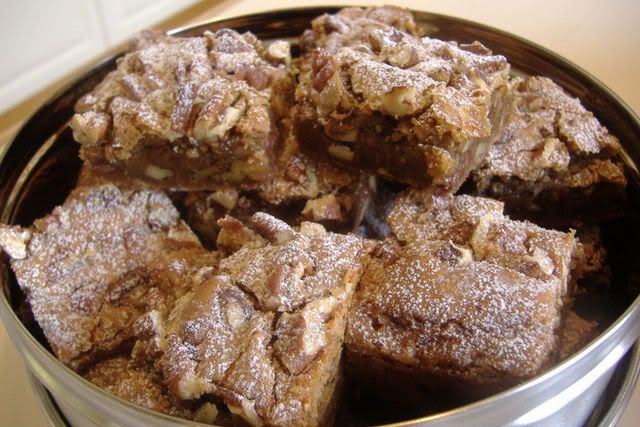 *Caramel Squares*
Makes one 8X8 pan
Printable Recipe
These are fabulously moreish and a real treat.
1/2 cup butter
1 cup soft light brown sugar packed
1 large free range egg
1 tsp vanilla extract
1 cup plain flour
1 tsp baking powder
1/2 tsp salt
1/2 cup chopped macadamia nuts
1 bar of good quality milk chocolate, coarsely chopped
(I like to use Green and Blacks 50g bar, about 1 1/2 ounces)
Preheat the oven to 180*C/350*F. Butter an 8 inch square pan and set it aside.
Place the butter and brown sugar in a saucepan on top of the stove. Melt together very slowly, stirring occasionally until the sugar no longer feels gritty. remove from the stove and allow to cool to hand warm temperature. Beat in the egg and vanilla. Whisk together the salt, baking powder and flour. Stir this mixture into the beaten mixture along with the nuts and chocolate. Spread into the prepared baking pan.
Bake for 1/2 hour until set and the top looks shiny. Remove from the oven and allow to cool before cutting into bars.
You can simply dust these with icing sugar if you wish or ice them with a fudge icing.
*Fudge Icing*
Makes enough to ice the top of a cake, or a pan of squares
Printable Recipe
10 TBS of brown sugar, packed
3 TBS of butter
2 TBS evaporated milk
(Can use cream)
1 tsp vanilla
1 cup of sifted icing sugar.
Heat the bruwn sugar, butter and milk very slowly until the sugar is dissolved and does not feel gritty when you run a spoon through it. Remove from the heat and add the icing sugar and vanilla, beating until smooth. Put on top of your cake or squares and allow to cool before cutting. This thickens quickly so you will want to work fast.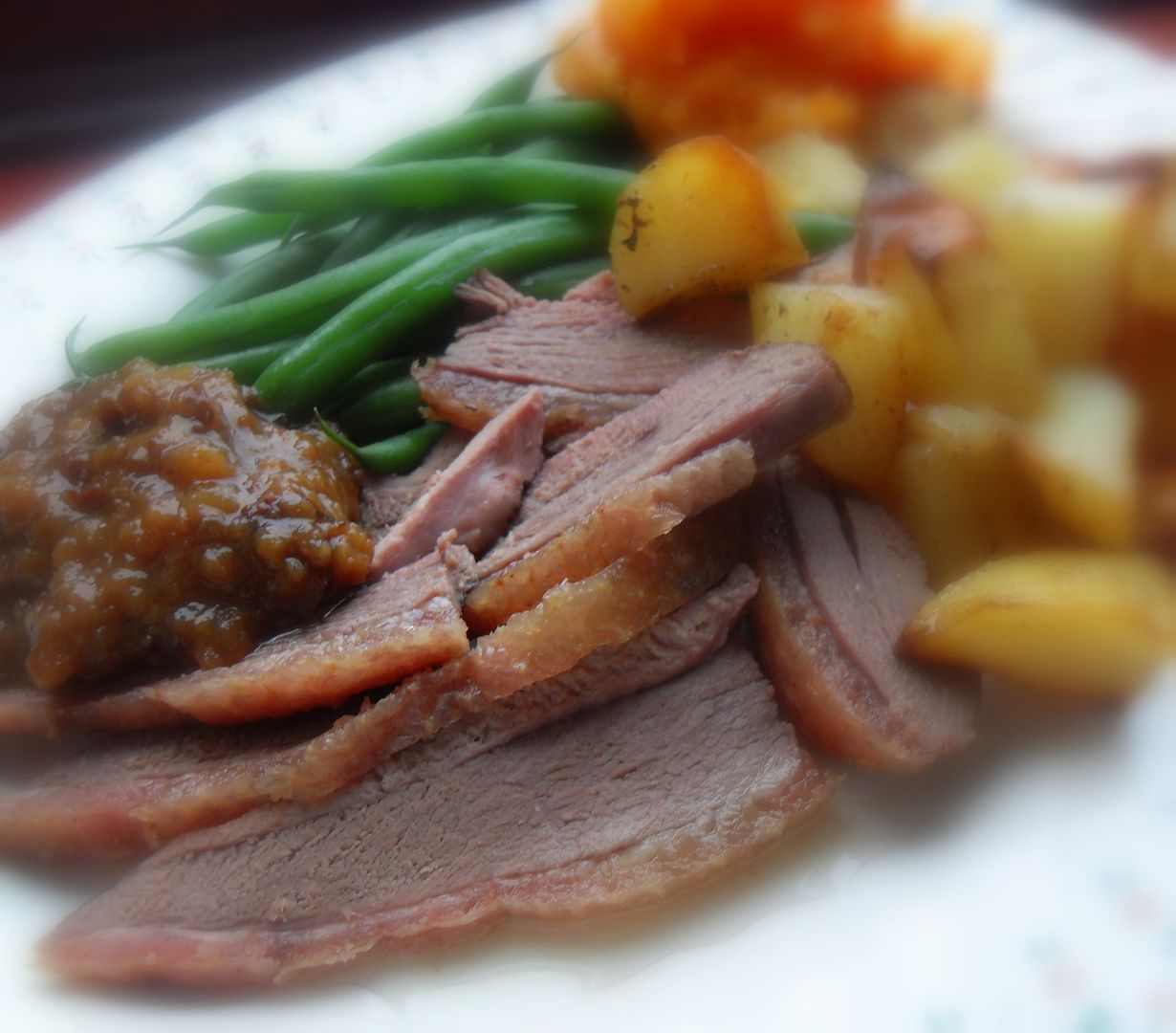 I'm cooking goose today, over in
The English Kitchen.
"Love is spelt T.I.M.E."
~Dieter F. Uchtdorf