November has been a month of dramatic sunsets. Yesterday at dusk the Welsh Hills . . . which we can see from our house laying off in a distance . . . were a deep violet colour, and behind them the clouds massed in fantastic formations, like great rose and golden bubbles lit by the fiery glow that seemed to strike up from under the horizon. Along the edge of the sky hung a long bar of green light . . . which lingered on until the darkness closed in.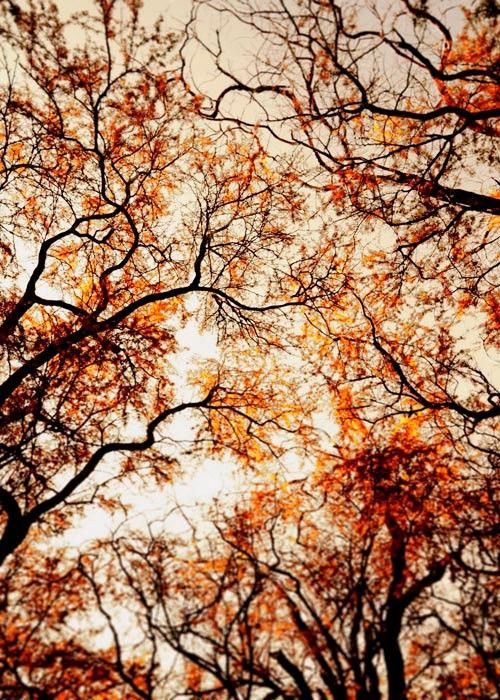 November air is exhilarating when there's no fog about. It's full of the sharp smell of burning wood and coal fire . . . wet earth and rotting leaves. There's a tang in the wind that is not there any other time of year . . . it sets the blood moving to a quicker rythym. One steps out briskly into the morning being conscious of a new vitality . . . braced for the threat of winter, which we know is
just
around the corner . . .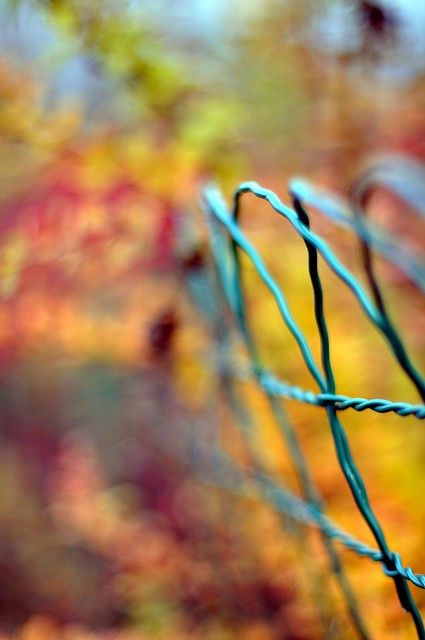 Just as the sun's arc through the sky grows ever smaller . . . the world too seems to diminish in size. Live centres around the hearth . . . glowing fire, cosy toes, chestnuts roasting, mugs of hot cocoa. There is, as always, much to do in the garden . . . but I cannot be asked. A spirit of quietness broods out there beneath the leafless trees. It is as if the earth speaks and whispers to me . . . "Let everything lie fallow for a bit . . . rest and wait . . . rest and wait."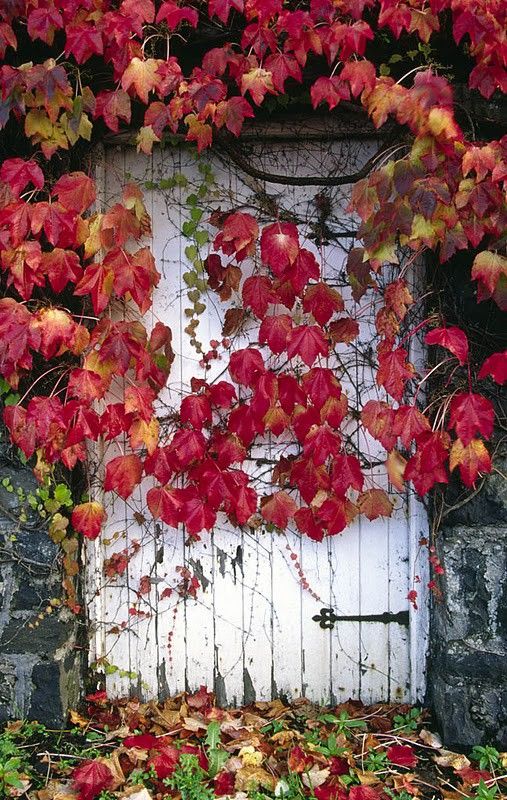 Nothing much new to show you here this morning. We had a very lazy day yesterday as we both rested . . . trying to get over this horrible autumn cold which has us in it's grip. I don't think Todd even crawled out of bed until gone 10 . . . very late for him . . . Sleep eludes us as we hack away into the night. Mine appears to be somewhat better as the anti-biotics take hold, but I have made Todd promise to go to the Doctors tomorrow when the surgery opens as he clearly needs some as well . . . let's hope December is a better month than November was!
Here's a delicious soup/chowder for when you want comfort and warmth. I often made this as a quick lunch after church when my children were growing up. For the most part they really enjoyed, although I did have one who didn't like soup of any kind . . . Amanda. She used to groan when she saw soup on the table, however she did like my stew. Funny that . . . there's just no accounting for taste is there?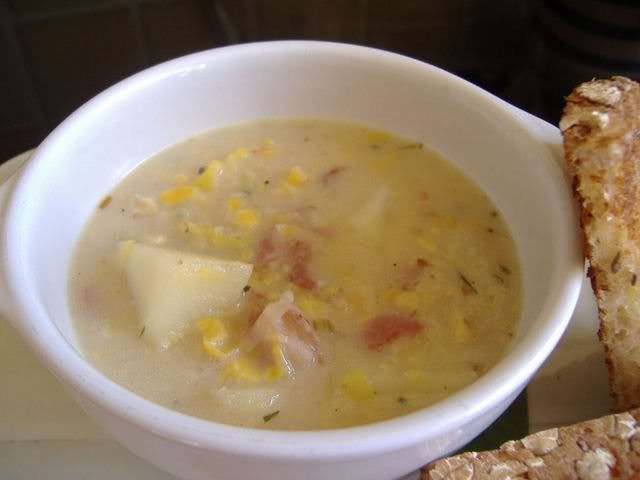 *Corn Chowder*
Serves 4
Printable Recipe
This has always been a real family favourite in my home. It's very quickly put together and uses things that I have in my store cupboard all the time. You can have a delicious, satisfying and rib sticking meal on the table in about half an hour, give or take a few. Just perfect for a cold and damp winter's day.
4 slices smoked rindless streaky bacon
½ leek, cut in half lengthwise and then thinly sliced into half moons
2 large floury potatoes, peeled and cut into 1 inch chunks
boiling water or stock
1 bay leaf
½ tsp summer savoury
Salt and pepper to taste
1 425ml tin creamed style corn
2 cups whole full fat milk
1 lump butter
Heat a heavy bottomed medium large saucepan over medium heat and toss in the bacon. Fry until crisp. Add the slices of leek and cook for a few minutes longer until tender. Add the potatoes, bay leaf, herbs and boiling water to cover. Bring back to the boil, then reduce the heat and simmer for 10 minutes or until the potatoes are tender. Stir in the creamed corn and the milk. Gently heat until heated through. Season to taste with the salt and pepper. Add a lump of butter and serve hot with buttered crispy whole grain toast or crackers.
Note - Here in the UK you can find the creamed corn in Morrisons.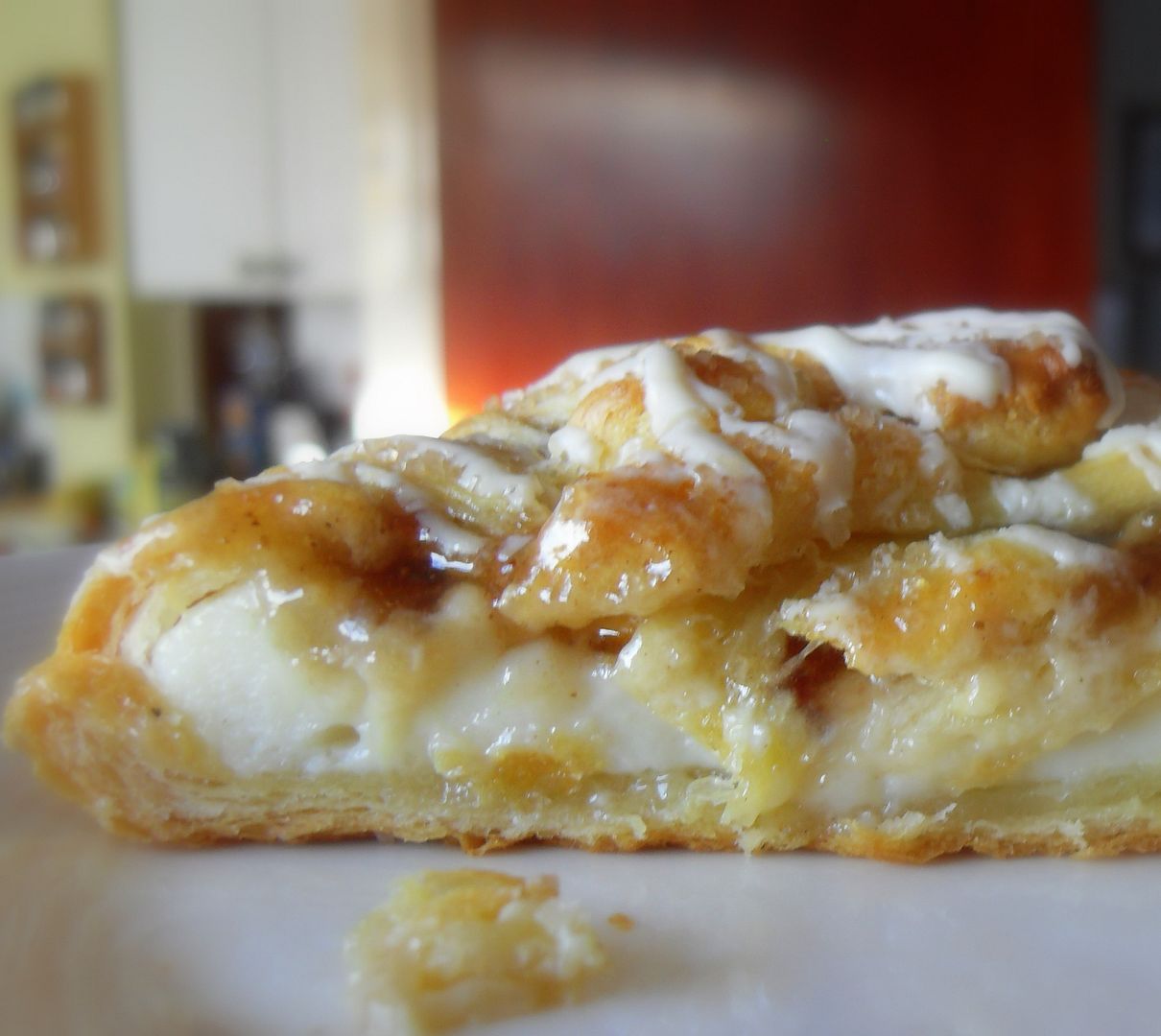 Over in
The English Kitchen
today I have baked a Holiday Danish!