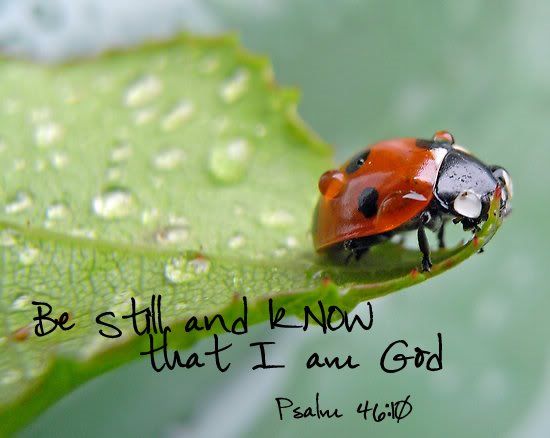 Taking time to listen to God is something I try to do each day . . . it is not always easy, sometimes life tries to get in the way, but I have found that if I discipline myself to do it . . . it is a treasure and a pleasure that becomes easier with each day that passes. Sometimes we can get so caught up in the here's and the now's of our days that we forget that in our great need to be heard . . . we also have to stop and listen, for that is the only way we can hear the things He wants us to hear . . .
I believe that in my silence I've learned far more, as I listened for that still small voice that I hear in my heart . . . far more than I have ever learned as I prayed and begged for answers. At times, I know . . . I haven't even asked the right questions . . . but by quieting my mind, and patiently listening, I've certainly heard the right answers, answers to questions I'd not even voiced very eloquently . . . but He knows . . . He knows . . .
Meditative, intentional listening is a gift for anyone who practices the art and a wonderfully rich experience. One has to be willing to sit still in God's presence. It does not take long . . . a mere ten minutes a day will suffice. Just find a quiet place where you can be alone and then . . . just sit there and be quiet. Turn off the music, the telephone and the television. Sit quietly and invite God to speak to your soul, allow Him to commune with your spirit. It won't take long before you begin to feel comfortable with the silence and you begin to hear the things that God wants you to hear . . . no, not in a loud audible voice, but in His still and quiet way. It will sooon become an integral part of your day and of your life.
It is an integral part of mine and one that I treasure daily. Sometimes . . . just when I think I have everything figured out, He reminds me . . . that His ways are not my ways . . . and that even the simplest of His thoughts are far better than even my grandest ideas.
"Be still, and know that I am God: I will be exalted among the heathen, I will be exalted in the earth."
~Psalm 46:10
Autumn is my favourite time of year. I love the cooler days and nights. I have never been a real heat lover. Perhaps it is the soft yearnings of my Canadian soul that speaks and tells me I am happiest in the cooler autumnal temperatures. There is something so cosy about walking into a kitchen after having been for a walk outdoors in the cool crisp air. The warmth of the kitchen hits you right away. It just speaks of home to me. Had I a wood stove, I would keep a pot of soup simmering away on the back of it all day.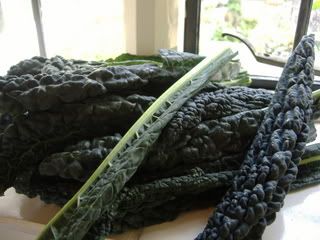 I love all of the autumnal vegetables and fruits that are now showing up in the market stalls and at the green grocers. It is so lovely to see them again. I am a person that loves to eat seasonally. I want my strawberries during the summer months, served up warm from the summer sun with bits of straw still clinging to their leaves, just as I want blackberries fresh from the hedgerows, tasting all the better for having picked them yourself in the autumn. Somehow a Bramble and Apple cobbler just would not taste the same in July or as good as it tastes in September. There is a time for everything and a season under the sun. Our internal clocks tell us what is right and when . . . This is the time for crumbles and soups and tastily simmered things.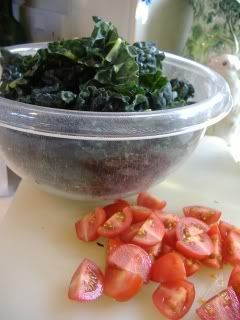 I saw some lovely , almost black, Cavolo Nero cabbage at the grocery store the other day and picked some up. I love it simmered gently on top of the stove with beautiful fresh tomatoes from the garden. I could eat a whole plate of this and nothing else, but I think I shall cook some lamb steaks to go with it this time . . . a perfect autumn meal.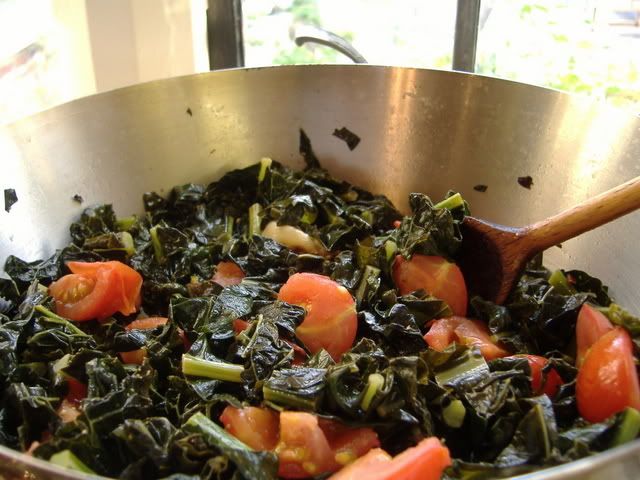 *Braised Cavolo Nero with Tomatoes*
Serves 4
Printable Recipe
I love the bitter flavour of this lovely deep green tuscany variety of cabbage. Very similar to kale and chard, it is robust and hearty and the perfect thing to pair up with delicious sweet tomatoes from the garden. This must be the reason they both come in season at the same time, for they are the perfect marriage . . .
400g of Cavolo Nero Cabbage (tuscan Kale) (About 1 lb)
1 (8 oz) glass of white whine
a healthy handful or two of baby plum tomatoes, (at least two dozen) cut into halves
1 fat clove of garlic, peeled and bashed
1/2 tsp of dried red pepper flakes
sea salt
olive oil
Wash the Cavolo Nero very well under running water. Roll it up and shred it with a sharp knife, across the width.
Take a large deep skillet and heat some olive oil in it until it begins to shimmer. Add the clove of garlic and heat only until you begin to smell the fragrance of the garlic. Add the cabbage and some salt. Stir and toss for a few minutes over medium high heat, just until the cabbage begins to wilt a bit. Add the white wine, turn the heat down to medium and braise until the cabbage is soft, giving it a stir and adding some water from time to time if needed.
When the cabbage is quite soft add the tomatoes and continue to cook and braise, just until the tomatoes begin to soften, about five minutes longer. Serve with a drizzle of good olive oil on top.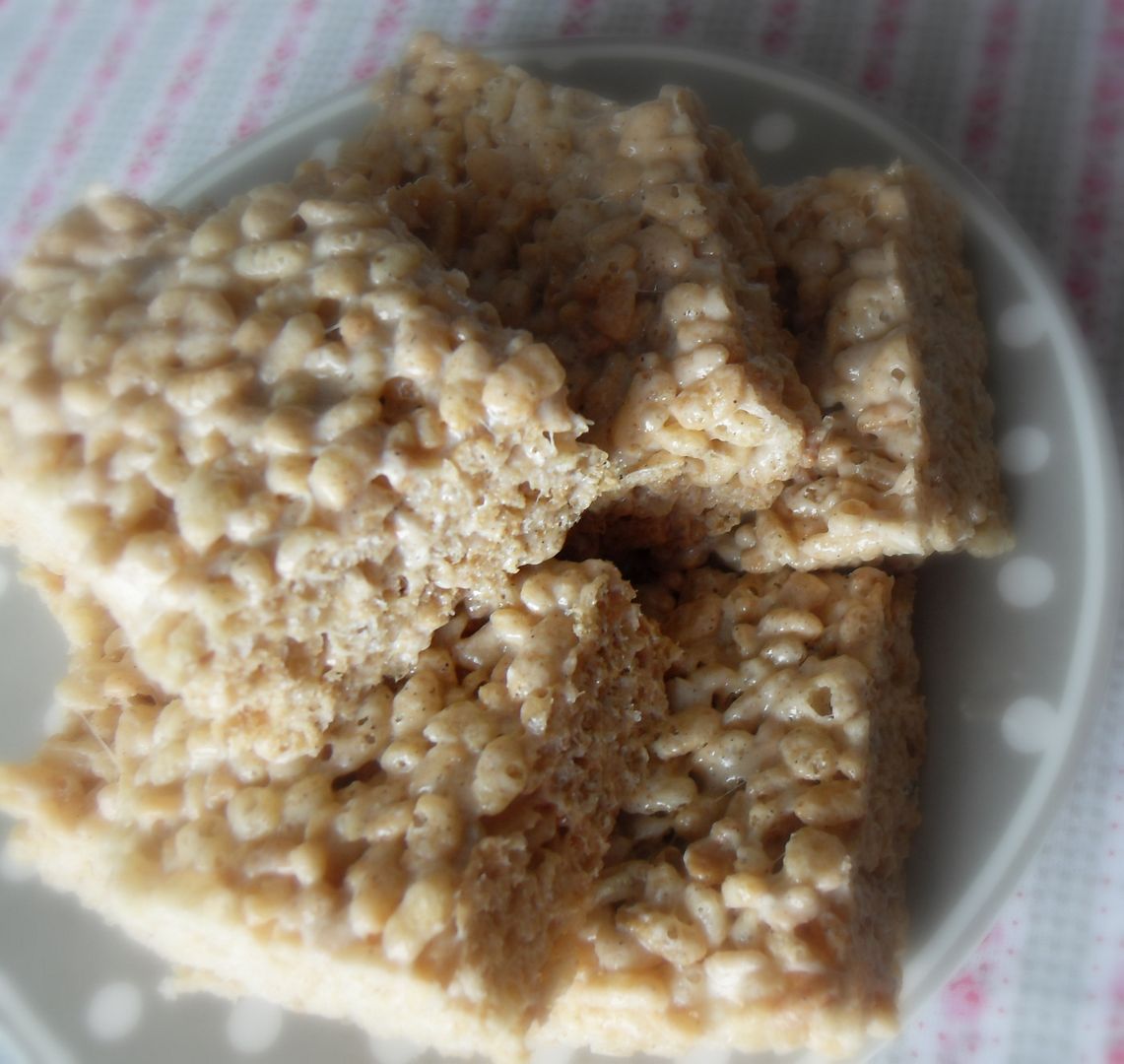 These may look like simple Rice Crispie Treats, but there you would be wrong, these have a delicious difference. Cooking in
The English Kitchen
today, some delicious Chai Spiced Crispie Cakes. Very adult. Very scrummy.