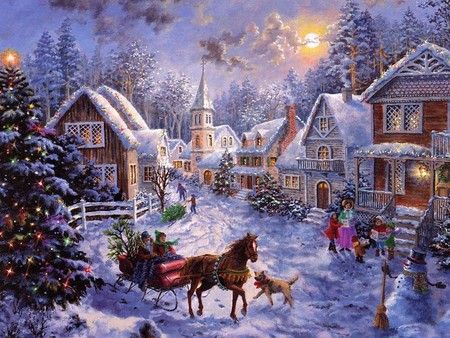 "Glory to God in the highest, and on earth peace, good will toward men." ~Luke 2:14
I've been sitting here this morning, once again thinking about how Mary must have felt on the night Jesus was born. Peace on earth, something the angels announced to the country shepherds on the hillside, must have been something quite far from her experience on that cold winter night. After all, according to scripture, all sorts of people kept showing up . . . shepherds, wise men, etc. It seems that even on that very first Christmas night, there was a very real dimension to the celebration that includesd people, and , still does, if you are very lucky, (Or unlucky depending on how you feel about it) lots of them. People make the holiday season into a celebration, but they can also complicate it beyond all measure.
For most of my growing up years, my Christmas's involved only my very immediate family. Because my father was in the Canadian Air Force, we lived too far away from our extended family for most of the time I was growing up . . . and so our celebrations were very small and quiet. My first few years as a mother myself saw Christmas's spent in much the same way. Living all the way out in Alberta meant that we were thousands of miles away from our loved ones, and so we did not have a houseful of family to celebrate with then either, although . . . to be sure, we always invited friends to come and share in our celebrations. For the most part though, they were very quiet holiday celebrations.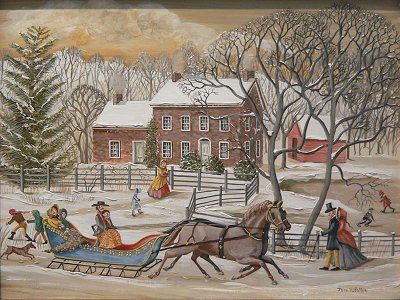 It was only when we moved closer to the East Coast that our celebrations began to include other family members, and every year saw us celebrating and enjoying the special holiday season and wonderful feelings associated with it, with most of our extended family around. They were special times . . . family times . . . filled with love and joy. I hope that we were able to build some special Christmas memories for our children througout those years.
One year, we organized and celebrated with a sleigh ride out in the rural countryside of London, Ontario on boxing day. We had a great time, although as the day dawned, we had no snow to speak of. It looked like it was going to be a wagon ride instead of a sleigh ride. All the family were invited. My sister and her daughter were coming up from Windsor, as well as my brother in law and sister in law plus niece, also from Windsor. My sister in law and her better half, plus their twin boys were travelling down from Toronto and my mother was already with us, having travelled up from Nova Scotia to spend Christmas with my family. When you added myself, my husband and our five children into the mix it meant for a lot of hustle, bustle and noise. The plan was to go out into the country and have this sleigh ride and then back to ours for a buffet lunch afterwards, pot luck as it were. Everyone was bringing some delicious food to eat and, as you can probably guess, I had been cooking and baking for days in preparation.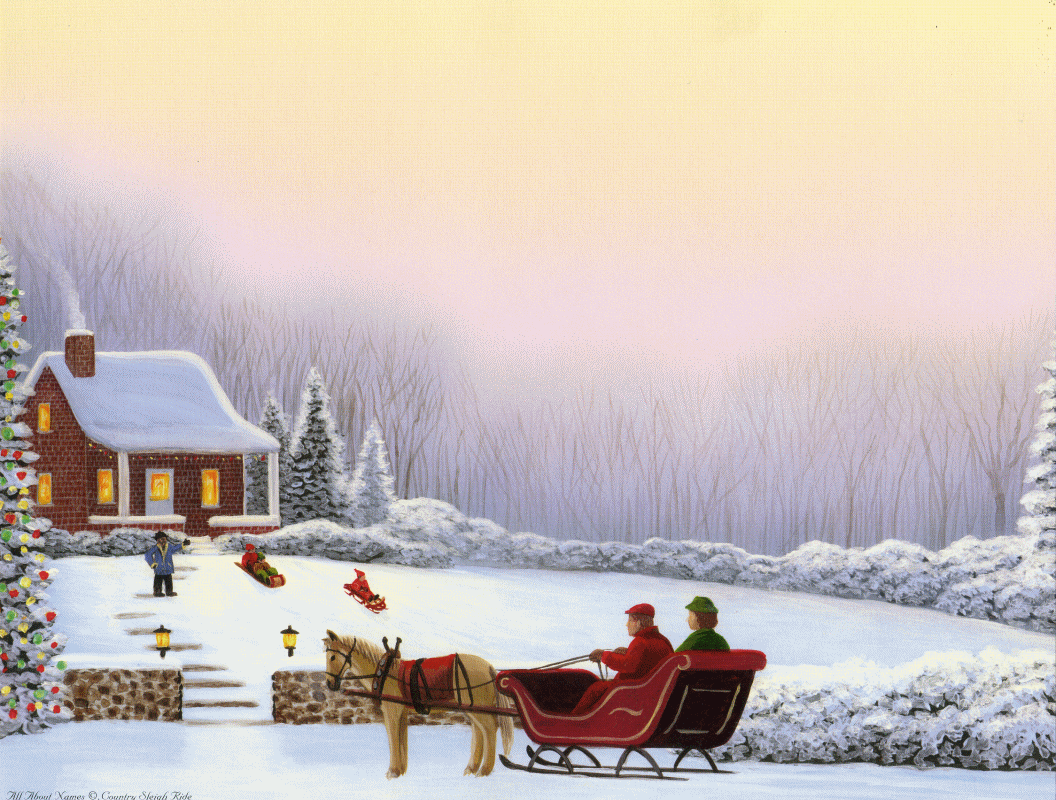 What a wonderful time we had, all of us crowded onto that wagon!!! We laughed, told stories, sang carols and froze our toes off . . . all together in one big happy group. All the nieces and nephews had a great time joking around with each other and throwing hats off the wagon that needed to be retrieved. I think they had a ball chasing the back of the wagon in turn, and trying to get back onto it. It was a bumpy old ride as the ground was quite frozen by then, and all the wheel ruts had frozen into hard ridges that the wagon bounced and jostled us over. Before we had gone too far though, soft, fluffy flakes began to fall on top of our heads and it wasn't long before we had to switch to a sleigh. It was like a Christmas miracle, and I am quite sure we all felt a bit like we were a part of a Christmas card in the making. What a special time that was for us, 8 adults and 9 children . . . a Christmas memory that I am quite sure is looked back on very fondly with the rose coloured glasses of love, by all who were there on that special day.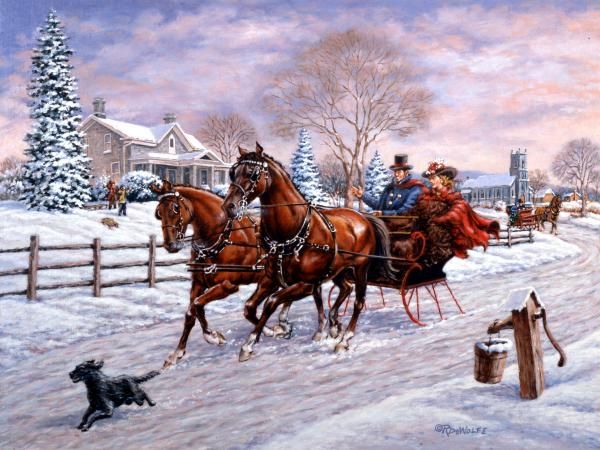 All of us were quite glad to get back to the house afterwards, and warm our cold hands, feet and noses . . . and to plough into the buffet that was very quickly laid out. Several hours, and on into the evening, were spent together in loving companionship with each other, sharing and enjoying all the goodness that was in abundance . . . and the special feelings of love and belonging to a family that were present on that day. My in-laws had not always gotten along with each other, nor had the children, but on that day it seemed that all bad feelings had been put aside and that all we were there for was to enjoy being a family together, and all the special feelings that encompasses. It was all pretty wonderful.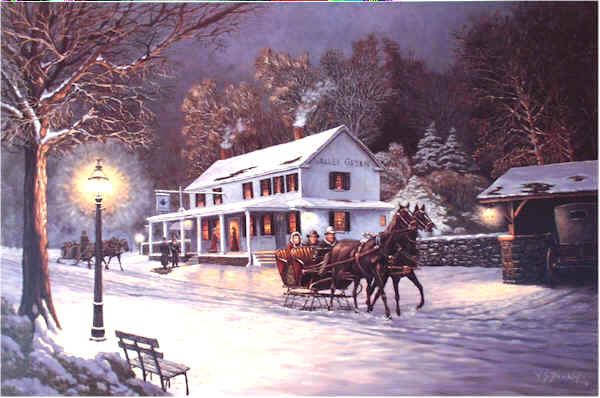 Most of the years that we were able to, we organized special activities that included family and friends, and I hope that I was able to help build some very special and loving memories of Christmas's gone past for my children. There was never a lot of money around, but there was always plenty of love. As Mother Teresa has said . . . "
It is not how much we do, but how much love we put into the doing.
" I know that I put a lot of love into those special days, and even though nowadays, there are just Todd, Mitzie and myself here in this humble home to celebrate this blessed holiday, there is still plenty of love put into the doing and I am building happy Christmas memories for the three of us.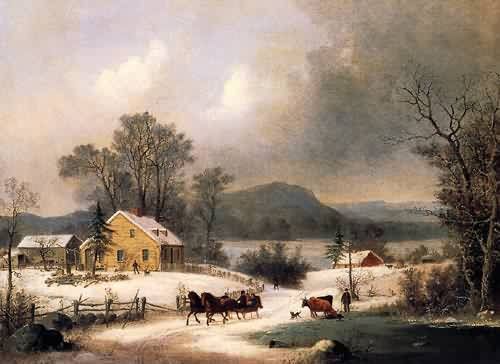 We have people invited over for Christmas Lunch, and I may even be able to gather in some much loved friends on Boxing day for a simple repast and celebration, but no matter . . . even if it is just Todd and I, Christmas is a time to celebrate with the people we love, and whether we are doing the celebrating in the same room, or at the end of a telephone cord, love
can
be, and
will
be there.
As you all know Todd is a real meat and potatoes man. He loves his meat and two veg and potatoes are his favourite vegetable, but then again, they are mine too. The meat, not so much, but once in awhile I do enjoy a bit of it. I made these delicious pork chops for our dinner the other day. They were really quite good!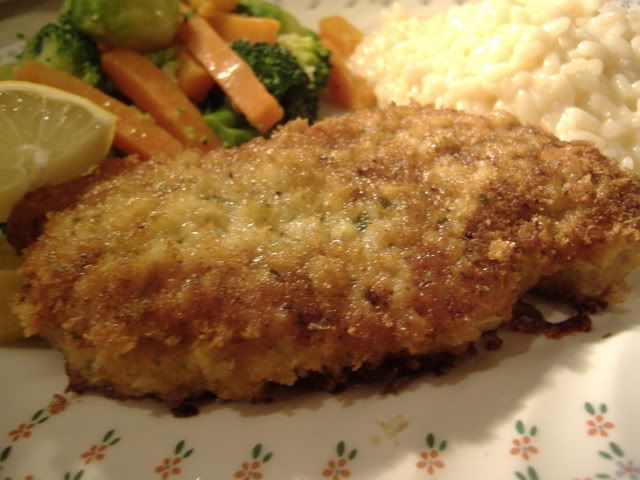 *Baked Parmesan and Sage Pork Chops*
Serves 4
Printable Recipe
Tender, moist and delicious pork chops in a crisp and flavourful crumb. This is pork chops the way they should be.
1 ½ cups fresh bread crumbs
1 cup freshly grated Parmesan Cheese
1 TBS rubbed dry sage
1 tsp finely grated lemon zest
2 large eggs, lightly beaten
¼ cup plain flour
Salt and pepper to taste
4 centre cut pork loin chops, about 1 inch thick
2 TBS butter
2 TBS olive oil
Lemon wedges for serving
Pre-heat the oven to 205*C/425*F. Lightly butter a shallow baking tray and set aside.
Mix the breadcrumbs, cheese, sage and lemon zest in a wide shallow dish and set aside. Whisk the eggs together in a bowl. Place the flour into a bag for shaking.
Season each of the pork chops well with salt and black pepper. Drop them one at a time into the bag of flour and give them a good shake to coat. Once coated with the flour using one hand dip them into the beaten egg to coat, and then drop them into the bread crumb mixture. Using the other hand coat them well on both sides with the crumbs. Set on a plate until they are all coated.
Melt the butter with the oil in a large heavy skillet, over medium high heat. Add the pork chops and cook until golden brown on both sides, about two minutes per side. Remove to the buttered pan.
Place into the heated oven and bake until the pork chops are crisp on the outside and the juices run clear. Try not to over bake as this will dry them out. It should only take about 20 minutes maximum.
Transfer to a heated serving platter and garnish with lemon wedges for serving.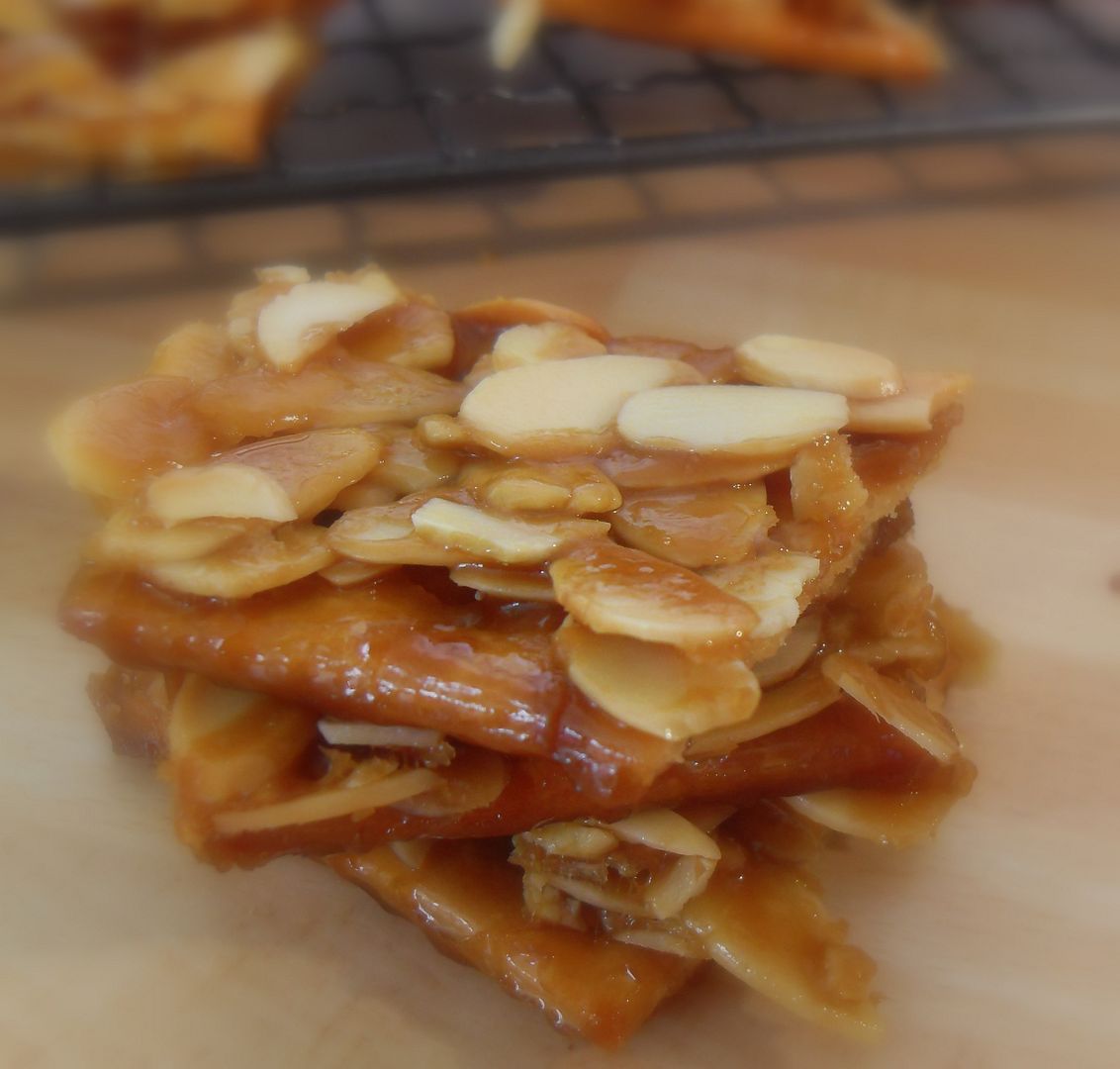 Over in
The English Kitchen
today, delicious Almond Florentine.