"I heard a bird singIn the dark of DecemberA magical thingAnd sweet to remember.
'We are nearer to SpringThan we were in September,'I heard a bird singIn the dark of December."~ Oliver Herford, I Heard a Bird Sing
One thing that we really love to do here at Oak Cottage, is to feed the birds. Not a crumb in this house, or bacon rind, or fat from off of a roast goes to waste at all. Stale cookies and bread, or cake . . . whatever we, or Jess, don't eat . . . goes to the birds.
Oh my, how they love it! We have quite a few species that come to our garden too, from sparrows, to gold finches, nuthatches, blackbirds, thrushes, tits,wagtails, etc. There's quite a lot. At night you can hear the housesparrows in the eves of the house, their little wings fluttering against the walls. It's a very comforting sound, and I imagine them all in there cosying up and bedding down for the night. There is even a woodpecker that visits our nuts from time to time, in all his glory and splendour, his great majesty to behold.


I sometimes make my own fat balls. A mixture of peanut butter, suet, chopped apple, raisins, honey, oats and seeds . . . they really love these. I make them up quite a few at a time, and then keep them in the freezer . . . . doling them out as the birds eat them up.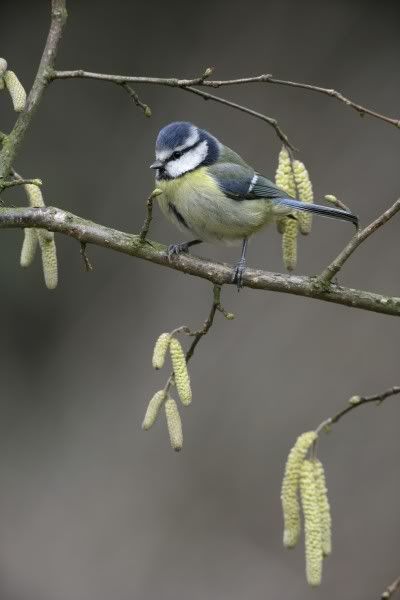 The other morning on my way to work, I could hear a beautiful song coming from the hedgerow as I passed. I stood and listened for a time. I think it was a blackbird, but cannot be certain. I am not smart enough to be able to tell the song of one bird from another yet . . . except for the very obvious ones like the song thrush or the cuckoo. As I stood and listened, my heart swelled with joy. It was so lovelyand sweet . . . and then another gift appeared . . . up on the branch of an oak tree, I saw a little Jenny Wren hopping from one dry branch to another. They are so small, these little wrens, and it is quite easy to miss one if you are not carefully watching. What a wonder to see this shy little bird!!! I stood very still and watched it for a time, and then . . . off on another tree, a woodpecker appeared and began to hammer for a bit. It was like they were putting on a special and secret show for just me.


I often seem to dawdle on my way to work. It's not that I don't want to get there, but that I am enjoying all the sights, smells and sounds along the way. Oh how I do love to live in the countryside where I live, so that I can be blessed with all these little gifts every day! Things are so peaceful and quiet except for the bird song, or the slight rustle in the leaves beneath the hedgerow of a shy creature going about their way, perhaps a rabbit or a squirrel going about their daily business.
The other week as I walked down the drive the Tudor roses were full of squirrels feasting on the rose hips, all swollen and red and juicy. They were so much fun to watch, as they hopped from one bush to another filling their cheeks and holding the round red globes in their paws while they ate. The birds love them too.


Gone are the flowers of spring and summer . . . here are the red berries in the holly bushes and the orange berries of the buck thorn. Yes, the trees are vacant, having shed their leaves in the last few dances of autumn, but still beauty abounds . . . as all nature bursts out in the last fruits of the year, and gets ready to bed down for the long winter ahead. Is there a season that I do not love??? I think not . . .
Here's a lovely recipe for a roast chicken that I have adapted from one I found in a Barefoot Contessa book. I love the moist juiciness of the chicken that contrasts so well with the crunchiness of the croutons, all succulent and flavourful, gilded with the juices of the chicken. It's kind of like Chicken and stuffing, but better . . . if you know what I mean.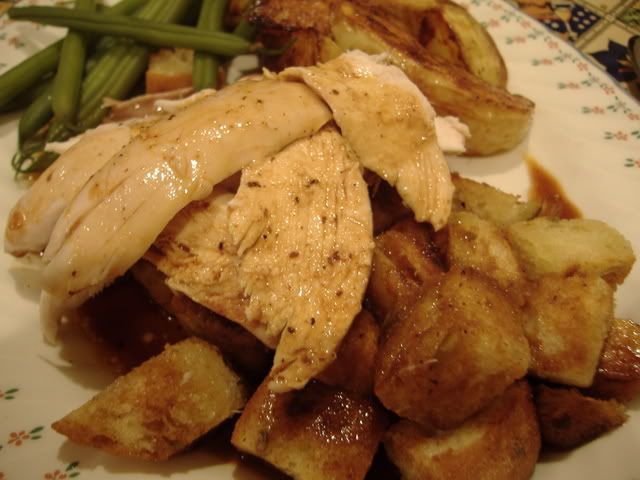 *Roasted Lemon Chicken With Croutons*
Serves 3 - 4
A simple chicken, stuffed with lemon, roasted and then sliced onto a bed of warm croutons so they soak up all the delicious juices of the chicken . . . How good is that??? In my opinion, roast chicken in any way shape or form can't be beat . . .
1 (2.5) kg roasting chicken
1 large onion, sliced
Olive oil
Sea Salt and freshly ground black pepper to taste
2 unwaxed lemons, quartered
2 TBS butter, softened
6 cups bread cubes, ¾ inch (1 baguette or round boule, I have even used a cubed olive ciabatta loaf)
Pre-heat oven to 200*C/400*F. Toss the onion with a little olive oil in a small roasting pan. Wash your chicken and remove any excess fat and pinfeathers. Sprinkle the insides with salt and pepper then stuff with the lemon quarters, giving each one a little squeeze before you put it in. The last quarter I squeeze all over the outside of the chicken before finally placing it inside. Rub the outside of the chicken with the softened butter, sprinkle with more salt and pepper and place on top of the onions in the roasting tray.
Roast for 1 ¼ to 1 ½ hours, or until the juices run clear when you cut between the leg and the thigh. Cover with foil and allow to sit for 15 minutes while you do the croutons. The onions in the bottom will probably be burnt looking, but don't worry, the flavour will be good.
Heat a large saute pan with 2 TBS olive oil until very hot. Lower the heat to medium low and saute the bread cubes, stirring frequently, until nicely browned. This will take around 10 minutes or so. Just before they are done I stir in a knob of butter and sprinkle them with salt and pepper.
Place the croutons on a serving platter and slice the chicken on top. Strain the juices from the pan, discarding the onion and spoon over all. Serve warm.
PS - There's a big surprise coming for you very soon! I can't wait!