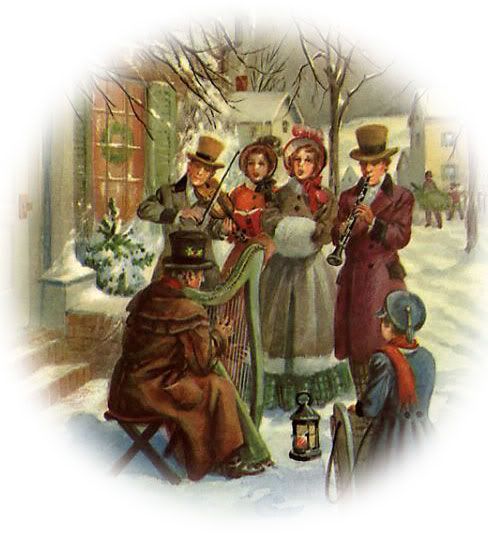 I read a cute little story the other day about some teenage lads who were standing on the corner opposite a church one Sunday evening in December.
One was overheard saying . . . "I don' t know who this Carol Service is, but she certainly packs them in!"
One of the things I love most about Christmas is the Christmas Carols.
There is something about a Christmas Carol that speaks to the heart in most of us. I have my favourites of course, but it would be very hard for me to pick just one as they all touch my heart in different ways.
When we lived up in Chester our church as a Ward used to go to the old people's home right across the road from where Todd and I lived each year in the week before Christmas to sing carols to the residents there. (I also happened to work there and I know first hand how much it was appreciated) My goodness how they loved it!! We would bring our hymn books from church and the pianist and the care workers would make sure that the piano was in the dining room that night and of course all the residents would be wheeled in. We'd sing with and for them for about an hour and then afterwards we'd share mince pies, cups of tea and most importantly conversations with them all. It was a wonderful evening. I don't think there was a one of us that didn't enjoy participating in it.
On another evening before Christmas the Relief Society did much the same at another old people's home. We'd sing them carols and then present them each with a small gift that we had made on a Relief Society evening in the weeks running up to the holidays. More important than the small gift or the singing was the time we spent afterwards fellowshipping with them all. It was always a wonderful evening.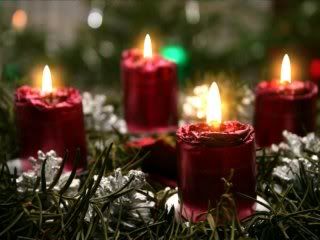 One year our Children's Sunday school class did the same thing of an afternoon. We sang carols and did a little presentation for the residents and then presented them with a huge card that we had made as a class. The residents really enjoyed seeing the children and spending time with them, and the children learned an important lesson about serving others and Christmas love.
One year a group of us just decided on our own to go and visit some of the shut in members of our Ward and sing them a carol and deliver them a card one evening. Oh what fun we had doing that! We went in a group of cars and visited some half a dozen or so people that night. The best part was seeing the look of joy on the faces of the people we visited and of course being together and the love that was shared.
A few nights ago we took the Young Men and the Young Women of our present Ward on a service evening. We were delivering the Gingerbread Houses the young women had made the week before to each of the Auxiliary heads in our Ward that have young children in their home. We also sang a carol to them as we presented our gift of thanks for all that they do for our Ward throughout the year. Oh what fun we had!!! We laughed so much! Of course we got lost several times during the evening!!! The boys were in one car with their leader and we girls in another. We were linking with each other via cell phones, and I have to say, the lack of direction coming from the boys to us was hilarious! They are rubbish at giving directions full stop!! In cars smelling of gingerbread and candy, and ringing with Christmas Cheer, getting lost was no hardship though. It added to the wonderful feelings that were present. More important than that, was the lesson we taught the youth in doing service to others with a cheerful heart.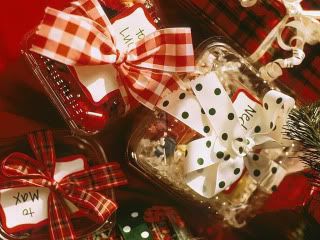 Christmas Carols . . . simple songs with a simple message that speaks to the heart of all mankind. They herald in the beginning of the greatest love story ever told. God loves us. He sent His Son, so that we might find the way to return to Him and live once more in His presence. I am ever grateful . . .
I made Todd a
rabbit pie
yesterday for his supper. He just loves rabbit pie. I am going to be sharing the
recipe
for that later today on my
Marie Cooks Britain blog
. I have never been fond of rabbit myself, so I took the opportunity to make myself some pasta with one of my favourite sauces, Puttanesca Sauce!!! We were both happy with our meals. That can't be bad!!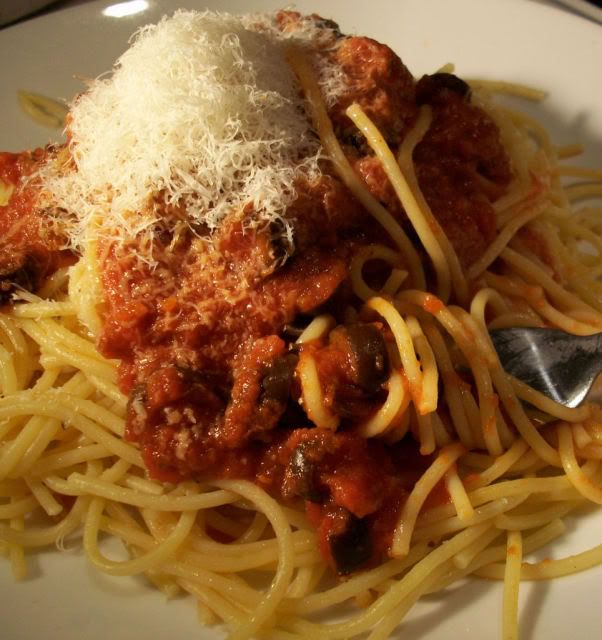 *Spaghetti With Puttanesca Sauce*
Serves 2
This is a gusty sauce packed with the lovely flavours of chili, garlic, anchovy, olives and capers! It's fairly quick to do so is excellent for those nights when you are short on time and starving!
4 tbsp extra virgin olive oil
1 fresh red chilli, deseeded and chopped
6 salted or canned anchovies, chopped
2 garlic cloves, thinly sliced
450g ripe tomatoes, peeled, deseeded and sliced into strips
100g black olives, pitted and sliced
1 tbsp capers
350g dried spaghetti
1 tbsp chopped flat-leaf parsley
Freshly grated Parmesan Cheese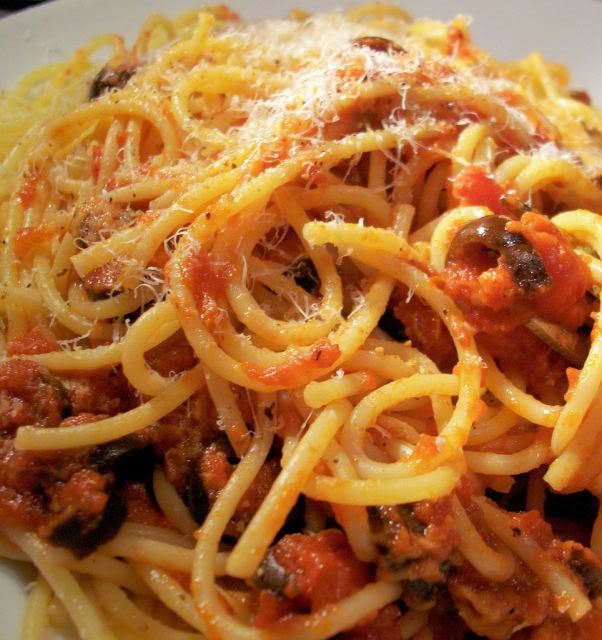 Place a large pot of salted water on the boil to cook the pasta in. In the meantime heat the olive oil in a large skillet over medium low heat. Add the chilli, anchovies and garlic. Saute gently for 30 seconds or so, mashing the anchovies into a paste with the back of a wooden spoon. Be careful not to let the garlic brown as it will turn bitter.
Add the tomatoes, olives and capers and raise the heat to high. Bring to a boil, then lower the heat and allow it to simmer for about 5 minutes.
Whilst your sauce is simmering add the pasta to the boiling water and cook it according to the package instructions. I like my pasta 'al dente.'
Pour the sauce into a heated serving dish. Drain the pasta well and then stir it into the hot sauce. Sprinkle it with the chopped parsley and serve it with plenty of freshly grated Parmesan cheese and crusty rolls for mopping up any excess sauce. Delicious!!