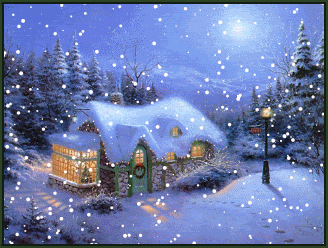 God's Christmas AutographOn Christmas Eve I saw
God's autograph in the snow --
Tiny creature tracks so fine,
All lacy in a row.
And with the dazzling Christmas dawn,
My eyes did then behold.
God's signature grown ever dear,
Etched in sunlight gold.
~Rosalyn Hart Finch
As a child, growing up in Canada, long about the beginning of December, I would start to look for snow. As the days grew shorter, the temperatures dipped, and the ground grew hard and cold . . . I would scan the sky daily for those tell tale feathery first flakes that would begin to fall and alight on my eyelashes and face. Is there anything on earth that tastes better? I think not! Those first few flakes of the season were eagerly anticipated and greeted with great aplomb, for if the snow was falling . . . the arrival of Christmas and Santa Claus could not be too far behind!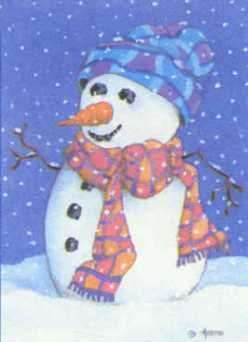 As an adult there is nothing more peaceful then the air that rings with silence early in the morning after a heavy night-time snowfall. How I love to look out over the pristine fields adorned with a heavy white blanket, only disturbed by the tell tale signs small hop hop hoppings of tiny bird feet upon it's surface. All the branches of the surrounding trees draped in it's heavenly sugarlike decorations. There is no more beautiful sight on earth, to my way of thinking anyways. I can always tell when snow is "in the air" . . . I can almost smell it's impending arrival, and the sky takes on a peculiar dark grey leaden appearance.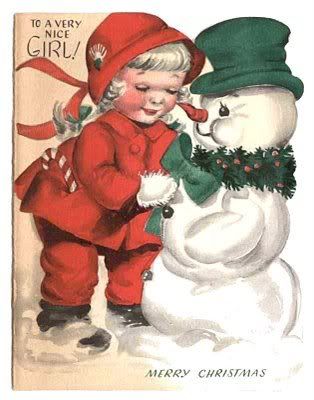 As children, the first snowfall brought about a flurry of activity. Our absolute first chore was to build the first snowman of the season. We would spend hours rolling the snow into big balls, three in number . . . each one getting a bit smaller than the last . . . and heaping them one on top of the other, with the very smallest on top. Those first snowmen were always adorned with the last few escaped leaves from autumn's flurry of raking . . . little prizes missed from the rake's ruthless prongs. Sticks were sought out and discarded, for only the straightest and best were sufficient for the snowman's most capable arms. Stones were prised from the frozen earth at the sides of the roadway to be used as eyes and mouth, and mom always donated a carrot for the nose. An old scarf and hat were also donated, after much begging of course! (I'm quite sure she kept an old one in the utility room to be used year after year for just this purpose!) What a wonderous sight that snowman would be to behold when he was done. !!! Snowmen would spring up all over the neighbourhood, like welcome immigrants from a mysterious and snowy foreign land that was visited upon us for a time . . .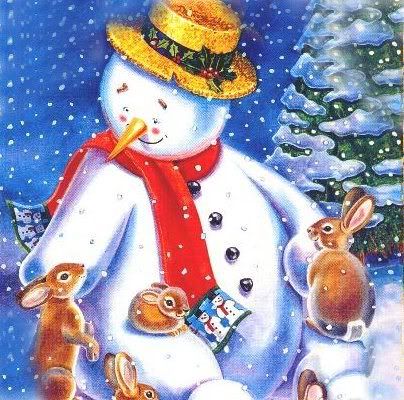 I know that the snow was not as welcomed by our parents, for it heralded the season of the back breaking labour of shovelling and having to clean the car off everytime you wanted to go somewhere . . . but it was a wonderful gift from above, and pure magic for us children. It would be several weeks before the novelty would wear off. I do admit that I miss the snow over here, especially before Christmas. A green Christmas, when I was growing up, always meant a season of doom, for, if all the old wive's tales were to be believed, it meant a season of illness and possibly even death in the family. So, while we kids eagerly awaited those first snowy flakes for all the joy they would bring . . . our parents eagerly awaited them as well, despite the work they would bring, for they heralded a season of good health for the family and others . . .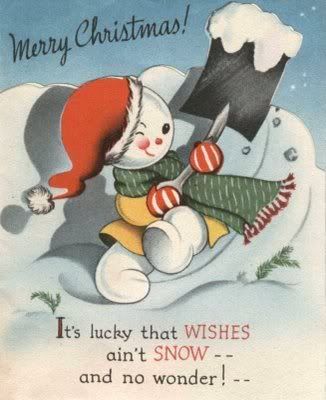 Alas, I have not known a white Christmas since I arrived on these green and verdant shores, and I expect I may never have one here in England at least, but as they say hope springs eternal, and we have already had a few flakes this year, so nothing is impossible!
Here's a delicious cookie for your Christmas Cookie Tray. You know, cookie trays make wonderful gifts for friends. Each year I try to bake an assortment of cookies in the weeks preceding Christmas and I store them in the freezer. Once I have several different kinds made, I divide them up and place them on little Christmas Trays. You can buy Christmas Trays pretty cheaply at some of the shops such as Pound or Dollar shops, or even Walmart. (I miss Walmart!) Wrapped up in some cling film and adorned with a pretty Christmas bow they will be welcome gifts to anyone you should choose to give them to! It's a good thing as Martha would say!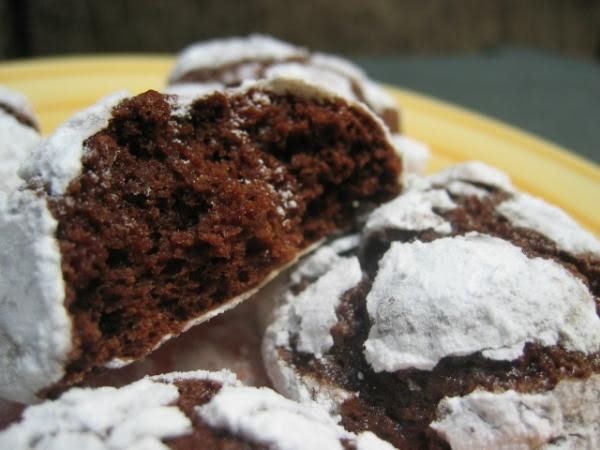 *Chocolate Snowflake Cookies*
Makes 8 dozen
This recipe makes a lot of cookies, but they're very easy to make and oh so very delicious when they are done. The perfect cookie for gift giving, they also freeze very well. As the cookie bakes it develops all these lovely little cracks and crevices all gilded with white powder. Yummo! As Todd hates chocolate, these are all for me! (well, all except for the ones I choose to give away!)
2 cups white sugar
½ cup vegetable oil
4 ounces good quality plain chocolate, melted
4 eggs
2 tsp vanilla essence
2 cups plain flour
2 tsp baking powder
½ tsp salt
¾ cup sifted icing sugar
Preheat oven to 180*C/350*F. Beat castor sugar, oil and melted chocolate together in a large bowl. Beat in the eggs and vanilla. Sift together the flour, baking powder and salt. Stir into the egg mixture one fourth at a time, beating well after each addition. Cover and refrigerate for at least 2 hours.
Sift the icing sugar into another bowl. Roll the cookie dough into 1 inch balls and roll these in the powdered sugar to coat well. Place on alightly greased baking sheet at least 2 inches apart. Bake for 10 to 12 minutes. Remove on to wire racks to finish cooling.
An answer to the question posed on my fruitcake post by obermuda. Mixed peel is candied lemon and lime peel . . . it can also be any citrus peels, like orange and grapefruit too. If you want to make your own, here's what you do: Peel two grapefruits or three oranges, citrons, or lemons. Scrape the bitter white pith from the peels and discard. Cut the peel into narrow strips and simmer the strips in boiling water until they're tender, then drain off the water from the saucepan. In a separate saucepan, prepare a sugar syrup by combining one cup each of granulated sugar and water, and simmering until the sugar is dissolved. Add enough syrup to the peels so that they are completely covered, and then simmer the mixture until the peels are translucent. Drain, cool, and store in the refrigerator. It is a lengthy process, but well worth it if you want to make anything that calls for the candied peel and it's not something that you have readily available.