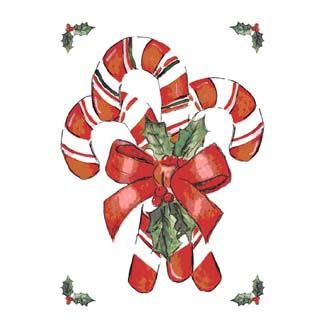 I don't mind that the month of December opens the windows of the year to another wintertime . . . with it's wind and cold, rain, sleet, snow . . . December brings to me a spark of love and faith, for it heralds the Christmas Season, my favourite season of the year.
I am still a big child at heart and there isn't anything about Christmas I don't love. The decorations, the carols, the sights, the smells, the sounds...I find great joy and excitement in all these things. Living in the country, the way I do, helps keep me close to the joy of yuletide, the real meaning of Christmas, and the hope and trust that come to one whose faith is based on the birth of the Christchild in Bethlehem. I am not surrounded by all the commerciality of the urban centres, and, if I didn't need to go into town for anything, I would not see any of it at all, especially if I chose not to turn on my television during this time of year.
In the corner of the livingroom stands the tree. I wish that it was a real one, with all it's evergreen smell, but it's an artificial one. I have it decorated from top to tail with gingerbread men . . . some I've made myself and other's I've bought, and still others that have been gifts from well loved friends. Its' a tree filled with memories and love and I feel really good sitting in my chair and gazing at it's branches laden with all my treasures, the colours of it's sparkling lights gleaming in the winter twilight.
Outside my cottage the hedgerow is ablaze with the red berries of the Holly, it's waxy green leaves shining and beckoning me to clip some, placing it around the cottage, adorning it with some medieval tradition that I know nothing about, but yearn to embrace. What would Christmas be without holly . . .
We don't have any snow. That is one thing I do miss at Christmas time. The countryside covered in a blanket of pristine white, shining like diamonds in the winter sun . . . glowing and sparkling when touched by the light of the stars high in the heavens. Back home, it most always snows on Christmas Eve, big, white, fluffy flakes falling down from the heavens like feathers, adding to the magic of that special night. But there is beauty anyways in the frozen ground over here and the frost that begins to gild the trees and hedgerows with their own special frosting on these colder winter mornings . . .
Bells and carols spread love and joy and add to the true spirit of Christmastime. I have an extensive library of Christmas music and I love to put it on during these December days and evenings, playing it low in the background, providing a wonderfully familial backdrop to all my December activities. As the winter birds visit the feeders outside my kitchen window I hear this holy season of love in the songs that they sing. I believe that the Robin is prettiest at this time of year, it's rosy red little breast puffed up against the cold as it hops along our garden pathways seeking crumbs, it's beautiful song filling the cold crisp air . . . a most welcome garden visitor.
I need no other gifts as long as I have my loving friendships and all this beauty and song around me. I meditate and dream, of Christmas's gone past and present...the memories of Christmastime continue to point the way to the birth of our Saviour who promised eternal life for those who believe, and so I believe . . . this is the season of love.
OH, I made a dessert to die for yesterday. Simple, easy and baked up within an hour.
*Sticky Date Pudding With Toffee Sauce*
Serves 6 to 8
Ok, this dessert is to die for, no kidding. Moist and sweet, full of sticky dates and lots of caramel flavour. The toffee sauce is it's crowning glory. DO please make it, but if you want you can just serve it warm with some cold vanilla ice cream melting over the top. (Make the sauce though….you won't be sorry you did!)
180g dried dates, pitted, chopped
1 tsp Baking soda
50g unsalted butter
150g brown sugar
2 eggs
180g self raising flour, sifted
TOFFEE SAUCE:
150g brown sugar
250ml cream (you can use the same amount of carnation light evaporated milk, undiluted, makes it a lot lower in fat)
1/2 tsp vanilla essence
20g unsalted butter
Preheat oven to 180 C. Combine dates and baking soda in a heatproof bowl. Pour over 250ml of boiling water. Set dates aside to cool to room temperature. Cream together the butter and sugar in a large bowl until pale in colour. Beat in the eggs one at a time, beating until smooth. Fold in flour then stir in date mixture, including the water.
Pour mixture into greased and floured 8 inch deep cake pan and bake for 30-45 minutes until cooked through. Remove from the oven and set aside for a couple of minutes before turning out onto a plate.
To make the sauce, combine all the ingredients in a small pot, over low heat, stirring until butter has melted. Simmer for 5 minutes. Serve hot, poured over thick slices of the warm date pudding.
*Note. You can add chopped walnuts to this cake for an added touch of flavour and crunch. I added about 1/2 cup.
PS - Sorry if you have read this post before. I worked quite late last night and have to leave for church really early this morning as it is our turn to pick up people in another town today who don't have cars to get them there. This post was originally written on my Maries Muses blog on AOL back in December of 2006. It was one that I loved and thought I would share with you again this morning. If you've already read it in the past, I hope you don't mind and if you are reading it today for the first time, I hope you enjoy! Happy Sunday everyone!